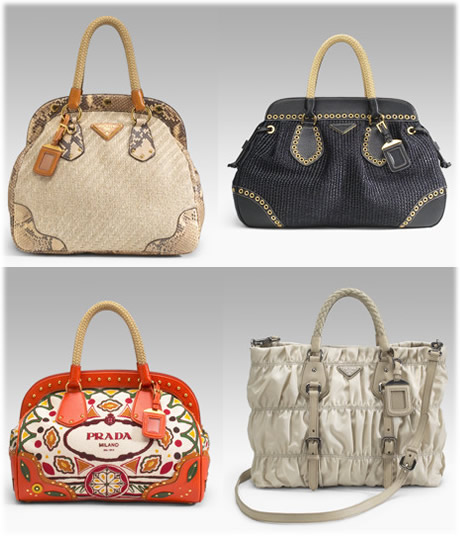 The funky early winter has my body all verschimmelt and this late winter weather has my inner most bones frozen and wondering what in the world is going on. But Prada is on track for spring which leaves my cold bones in a state of euphoria thinking of cruises, beaches, and a tan. Thumbs up from my end on a selection of the Prada Spring 2007 Handbags which implement bold colors and fun textures which are big for spring.
First we have the Prada Juta/Python Frame Bag. Perfectly combining juta and python trim, this handbag is the epitome of a cruise collection. Measurements are 13″H X 14½"L X 6″W. Beautiful for spring via Saks for $1890. Next there is the Prada Studded Straw Frame Bag which is a little more dressy but still Jimmy-Buffet-poolside-margarita-casual. The gold studs are paired with a straw frame bag, leather trim on the coroners and top, and a magnetic snap closure. 12″H X 16½"L X 6″W and available for $1470 via Saks. Bottom left is a bag that exemplifies all things hot for spring; including bold color, funky pattern, and braided rope handles. The Prada Canvas Frame Bag showcases a bold orange color alongside its printed canvas frame body which features red, yellow, and green colored designs. Funky and fresh, I could not typically see myself loving this bag, but for some reason I am oddly drawn to it. Measurements are 11″H X 14″L X 7″W and this bag goes for $1750 through Saks. The Prada Ruched Nylon/Leather Tote strongly resembles its in the lime-light sister, the Prada Grauffre, and in a simple color is a great bag for spring. The reason I really love this ruched nylon tote is because it is easy to clean. There is a removable cross-body strap and the dimensions are 11″H X 12½"L X 5″½W. Buy it via Saks for $1450.
Check out the rest of the Prada Spring Handbags through Saks.