This holiday season, Prada embraces the idea of celebration, a time in which we allow our bags and outfits to shine when we go out with those we love. And shine they will, with a special collection adorned with just the right touch of glitz and glam, perfect for joyous gatherings.
Prada brings sparkling crystal and sequins to essential silhouettes, and no item is left out – you'll find bags, shoes, clothing, accessories, and jewelry to mark this most wonderful time of year. If you've been looking for something for your holiday parties and a standout ensemble for New Year's Eve, Prada has something for you. And you know what makes it all the better – the entire collection will make you smile. Fashion always helps tell our mood, and if there's a bag I see that instantly makes me happy, then I know it's a good bag.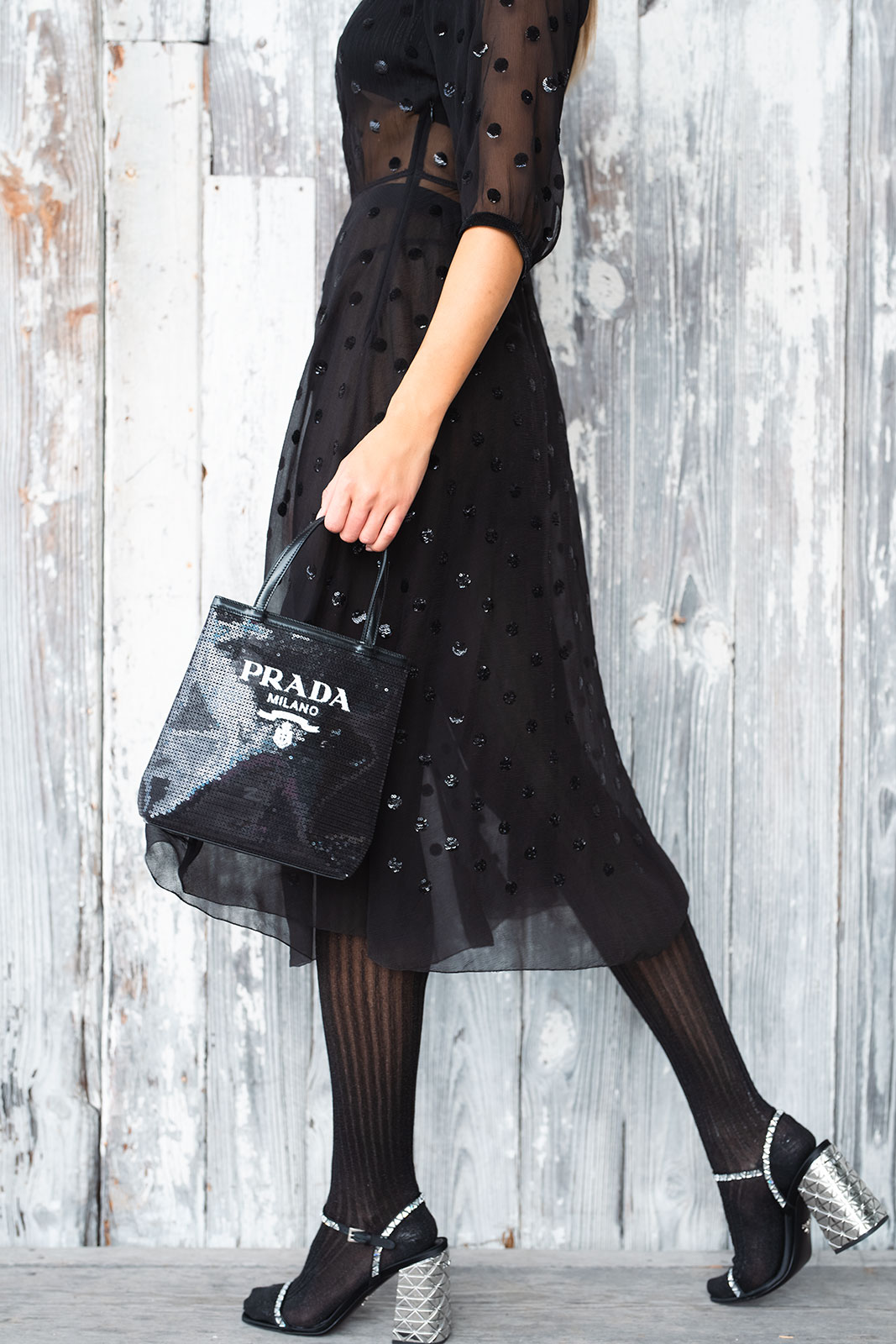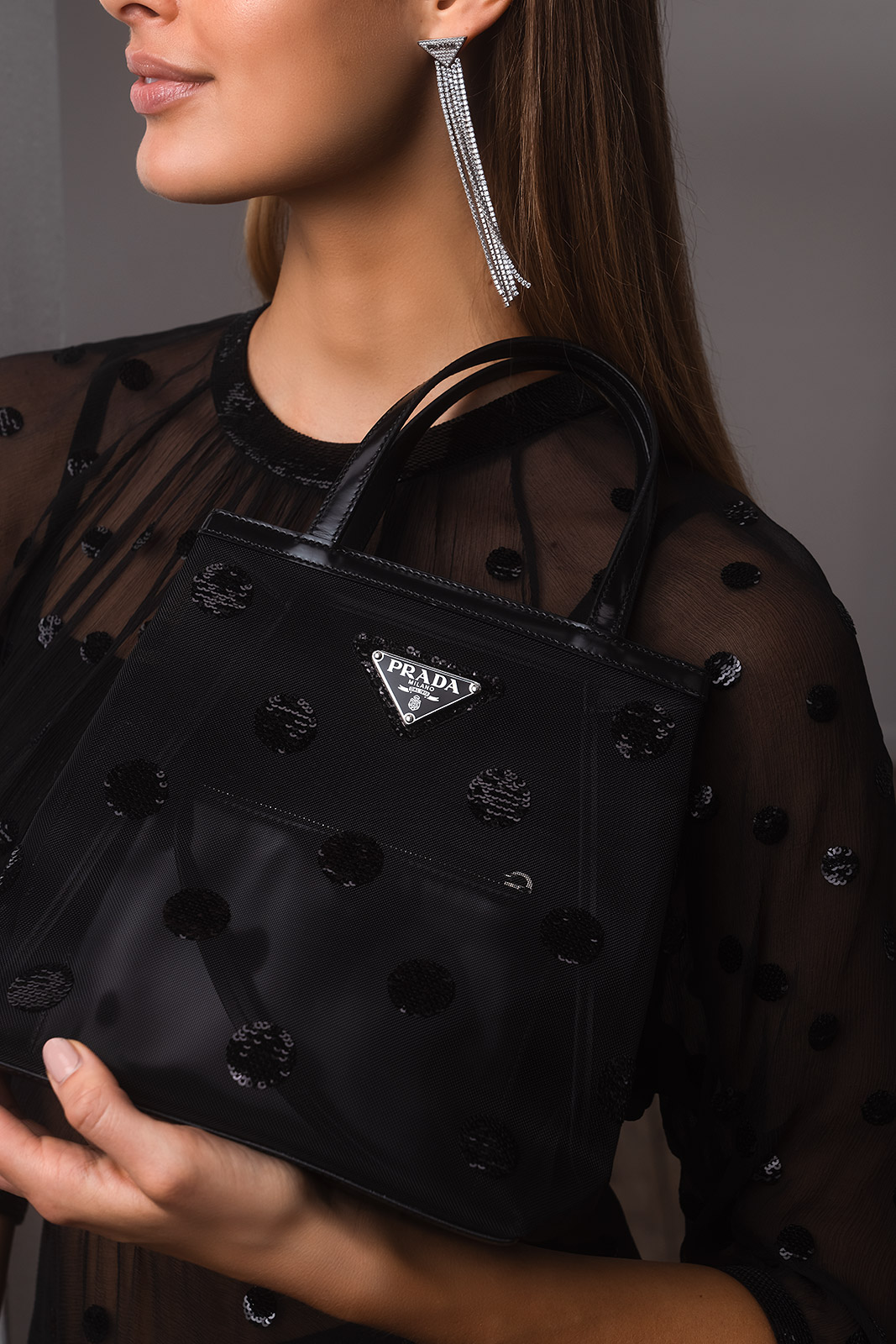 Speaking of the bags, these aren't your ordinary bags. There are two sizes of mesh bags, each with sequins and shine in different colors that pair well with your casual daily outfits or your night look. If you're looking for an extremely lightweight tote that glimmers in the sun, you will want to look at these Prada Sequined Mesh Tote bags.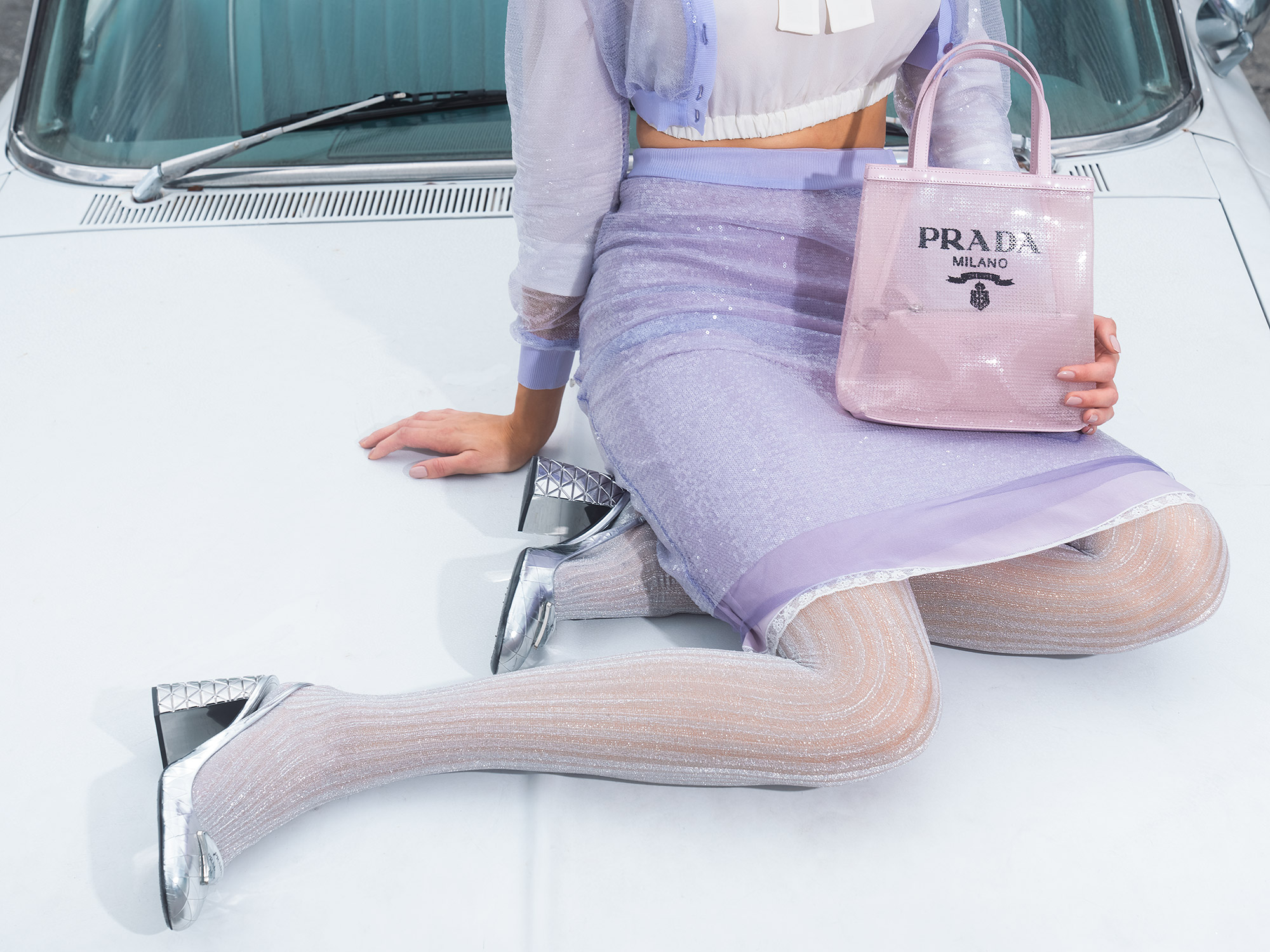 Upon close inspection, you'll see the entirety of the bag is covered in tonal sequins (black or purple in this case) and embellished with the lettering logo printed on the front. The leather double handle has an ideal drop, and there is a matching removable leather pouch inside, which is a nice touch. As the bag is unlined, you can either use pouches for your items or just let everything sit inside and show your items. Dimensions are 30cm H x 10cm L x 36cm W.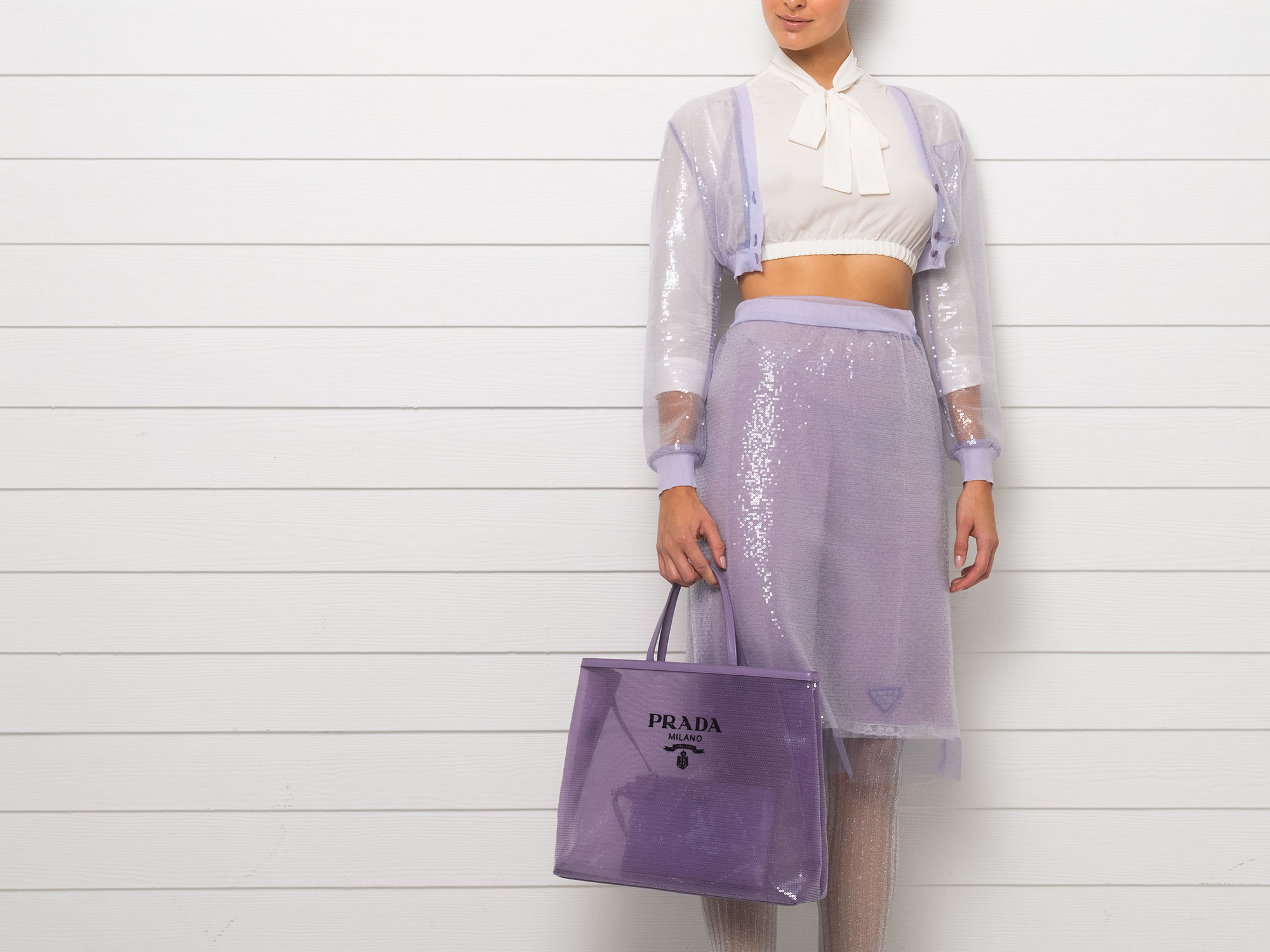 There's also a smaller tote, available in Alabaster Pink with allover sequins, black with sequin Polka dots, and Lily with sequins. These totes are smaller but still have the removable leather pouch on the inside and the same all-over sequins. The simplicity of these bags paired with the glitz and shine of the sequins makes quite the standout piece. Dimensions are 22cm H x 8cm L x 20cm W.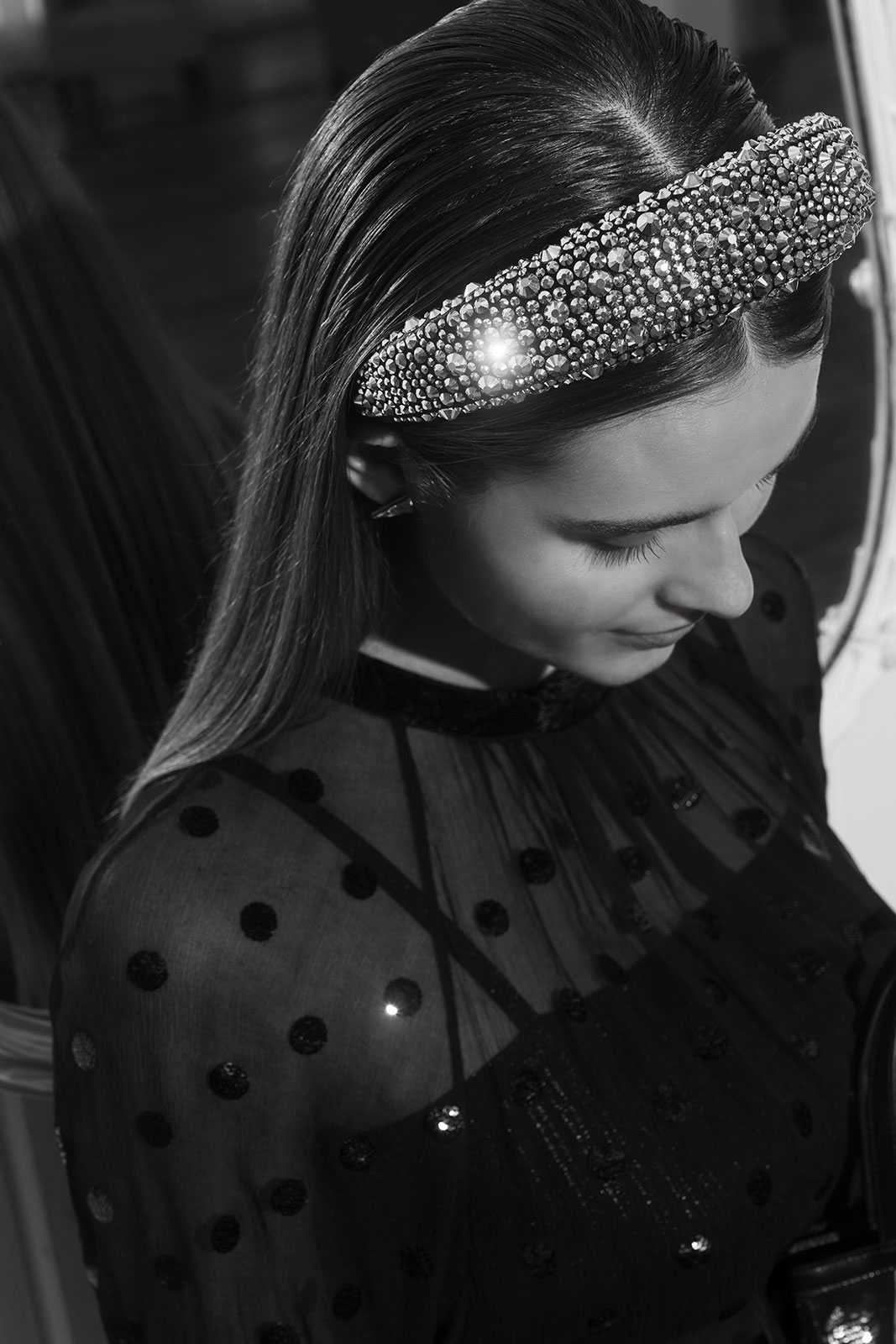 There are countless options to complete your look, each of which I became more enamored with than the next. The iconic Prada triangle is placed on most items now in a subtle yet notable way, and you can choose from the more casual to the more dressy. The Sequin tulle midi skirt evokes a romantic atmosphere. You can pair it with this Sequin-embroidered tulle crop top which combines a sporty look with sparkling accents for an interesting and unusual mix. These Metallic leather slingback pumps can amplify any outfit, and a headband like this will complete your festive look. Place your order by December 21st at 3pm EST to have items arrive by December 24th.