While most of us continue to sweat in this summer heat, the fashion world is releasing their fall bags already. What can I say other than I'm looking forward to the leaves changing colors and a bit of a breeze. First, we will dive into the Prada Fall Handbags.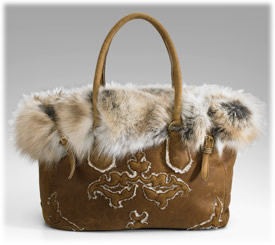 First take a gander at the Prada Shearling Tote w/Fox Trim. I know the animal lovers out there will not be head-over-heels for this bag, but for Fall it is casual cute. This cinnamon brown shearling tote is meticulously adorned with decorative appliqués and trimmed with white fox trim. Sizing up at 12½"H X 15¾"L X 4¼"W the tote is finished off with double handles and adjustable tabs cover top on the sides. Available to be pre-ordered for a hefty $2375 via Saks.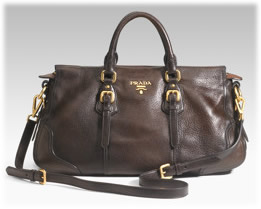 Next we have the subtly chic Prada Cervo Antic Satchel. This satchel is designed from supple brown deerskin which is antique finished along with goldtone buckle detail on the handles. There is also a goldtone signature logo on the front, a detachable Prada ID tag, and a detachable shoulder strap. This strap will come in handy for the days that you need some relief from carrying the handbag with your actual hands. Measuring 9¾"H X 17″L X 5″W, this bag is also available for pre-order through Saks for $2450.
Rounding out the bunch, although there are many more, is the Prada Cheetah Print Hobo. This hobo lets us know that animal print is not out, quite the contrary, it is being seen all over the place for fall. This hobo features a cheetah print on calf hair and shows off a buckle detailed shoulder strap along with extended side tabs. There is a detachable ID tag and this wild hobo closes with a magnetic snap closure. Measuring 11¾"H X 15″L X 4¼"W, can you dig it? Buy it through Saks for $1850.