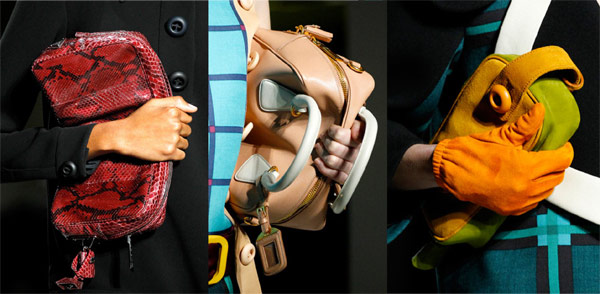 To fully judge the bags from Prada Fall 2011, I strongly urge you to look at the collection as a whole. If you like Prada's quirky retro-futurisim, you will love the 60s mod quasi-innocence of what Miuccia put together, and in the context of fall's Prada girl, the bags make perfect sense. The highly textured collection lends itself to simple, single-material bags; after all, if your ensemble already has fur, paillettes and a pair of glitter and python boots, you probably don't need a handbag that competes for attention.
That being said, I wonder how the bags will sell when removed from the spectacular clothing that provided them with a backdrop for them during the runway show. They're simple and luxurious, but they lose some of the magic of the mod look when considered on their own. Still, Prada's overall output for fall is easily my favorite of the season thus far, so I wouldn't worry too much for the company's coffers.
Photos via Vogue.com.