As narrow as our focus can sometimes be at PurseBlog, we're well aware that a good accessories look goes far beyond simply choosing a bag. (Although, let's face it, that's our favorite way to start.) The story of your personal style can often be found in the details, and when two details spend as much time adjacent to each other as a woman's bag and her watch, they better be speaking the same language. To help sort out this oft-overlooked pairing, we've teamed up with our friends at Portero to give you some ideas on how a bag and a watch can work together.
We've mentioned Portero's stellar selection of pre-owned and vintage luxury handbags in the past, but the brand's watch selection is equally stunning. Rolex, Cartier, Breitling – there's something for every woman (and man), no matter his or her aesthetic preferences. Fine watches are also a category that rarely, if ever, goes on sale – buying pre-owned is one of the only ways to get any kind of break off of retail, and the popular brands hold their value extremely well, making a pre-owned watch a strong investment. If you're on the hunt for a new pair to adorn your arms, or if you've already got a bag or watch and it needs a mate, check out our guide to creating the perfect accessories couple below. After that, check out the watch selection at Portero!
---
The Casual Pair
Christian Dior Woven Leather Tote, $1,299 via Portero
Breitling Transocean Chronography Men's Stainless Steel Watch, $10,450 via Portero
A men's luxury watch feels modern and bold one a woman's wrist, and the slightly delicate weave in the bracelet on this Breitling pulls out the texture of the Dior bag's woven texture beautifully. You could wear this combination every day.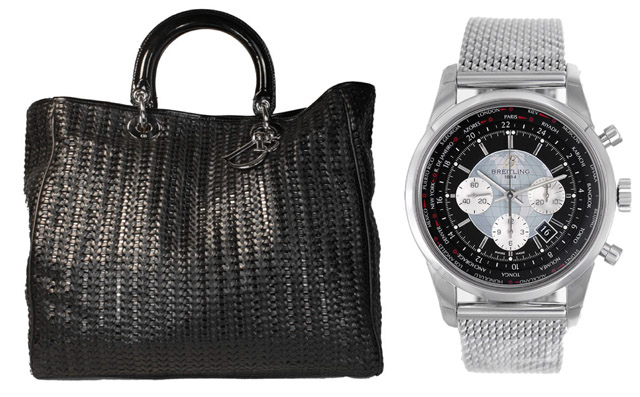 ---
The Classic Pair
Hermes Passe Guide Bag, $16,850 via Portero
Rolex President 18k Ladies' Automatic Watch, $7,450 via Portero
This is the pair for a woman who's arrived – and who intends to stay there. This Hermes bag was originally designed in 1975, and it was recently brought back in very limited editions for the Hermes Spring 2012 runway show. The watch, of course, speaks for itself, not to mention how well it brings out the bag's distinctive, bold gold hardware.
---
The Ladylike Pair
Hermes Constance Elan Bag, $13,999 via Portero
Cartier Tank Francaise 18k White Gold and Diamond Watch, $9,995 via Portero
We could see this luxuriously feminine pairing on literally any member of New York's elite social set – after all, what's more ladylike than a slim Hermes shoulder bag paired with a vintage, diamond-encrusted, totally classic Cartier Tank Francaise? If you think this duo is too old for you, think again, because a slip dress and gladiator sandals would compliment the pair as well as a Chanel suit would.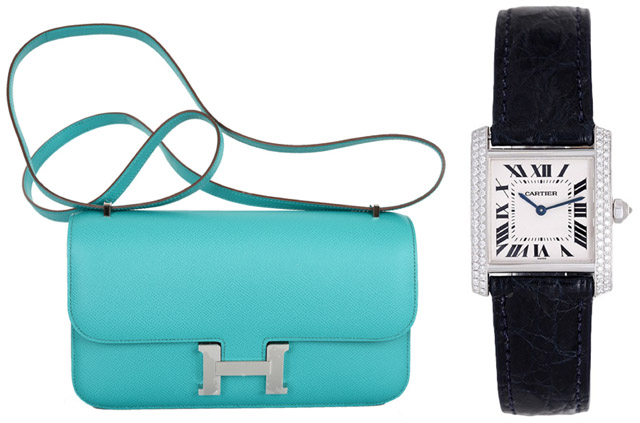 ---
The Modern Pair
Celine Whipsnake Trapeze Bag, $4,798 via Portero
Rolex PVD Daytona Black Watch, $18,000 via Portero
Traditionally minimal watches can be nearly impossible to read, which is why this modern-but-not-minimal all-black Rolex is such an attractive hybrid. The modern, sporty feel goes perfectly with Celine's clean-lined It Bag.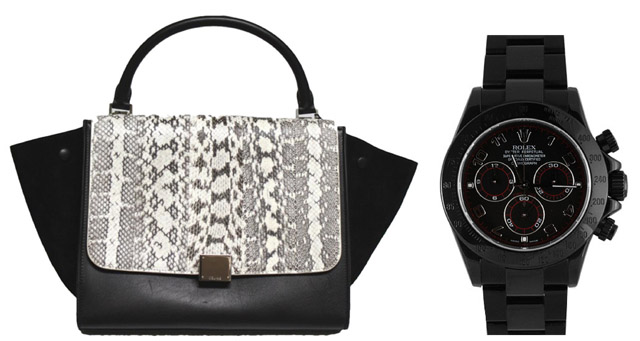 ---
The Trendy Pair
Chanel Stingray and Leather Boy Bag, $5,900 via Portero
Chanel J12 Ceramic and Diamonds Watch, $24,500 via Portero
If your primary concern is being of-the-moment and bold, then combining exotic Chanel and diamond-encrusted Chanel is a total no-brainer. The company can't keep the Boy Bags in stock in any size or color, let alone eye-catching red stingray, and the J12 has been an enduring favorite for years.