What's up with fashion lately? Every collection seems to boast a cohort of quirky and cartoonish bags that are, above all else, peculiar. Whether it's Louis Vuitton's signature key pouches appearing in gigantic form on the runway, JW Anderson's internet-breaking Pigeon clutch, or the hunger-inducing Balenciaga Lay's bag which is proving a favorite of Creative Director Demna.
Handbags are getting ironic.
In lieu of clean-cut silhouettes and practical styles, we're fast seeing graphic shapes, mind-bending proportions, and avant-garde embellishments becoming the new currency for handbags.
Fashion's reaction to the introduction of poultry-shaped accessories and jumbo leather goods? A fanfare of social media mentions, talk of impending 'It' bag status, and a slew of editors and influencers rushing out to get their hands on the latest wacky styles. And in the midst of this latest fashion frenzy, the quirky bag phenomenon has prompted the question – But why?
A quick gimmick to induce shock and attract publicity and clicks? A cash grab? Brands collectively testing how far they can push the boundaries of unorthodox fashion that sells? Or is fashion simply entering its era of experimentation against the backdrop of an uncertain future for the world?
Let's discuss.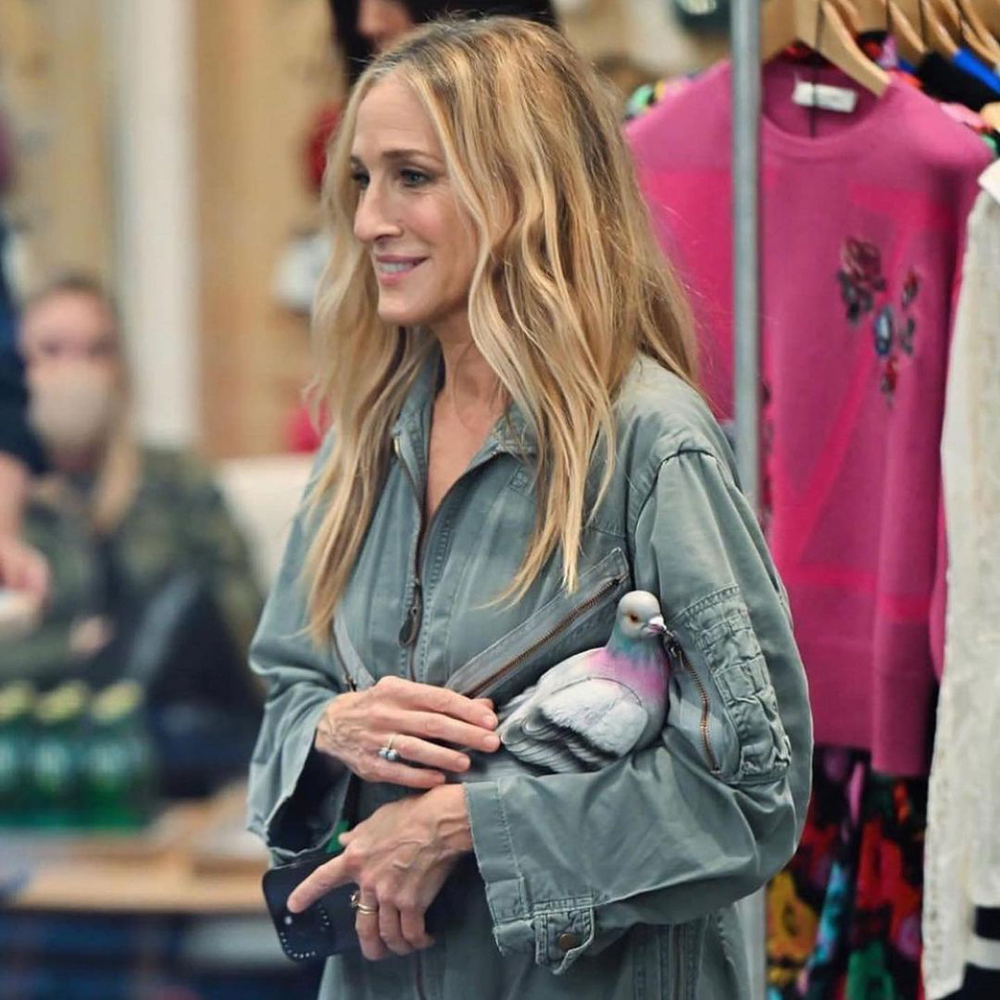 Where Do Weird Bags Come From?
This is not fashion's first foray into the world of weird and wonderful handbags. There are many brands that have long made bizarre objects the center of their bag designs.
Take NYC-based label Area's Fall/Winter 2020 crystal chair bag, which quite literally consists of a miniature bedazzled chair on a cross-body chain strap, or Moschino's Fall/Winter 2014 Fast Food handbags. And some designers have even made bags modeled after unconventional objects a hallmark of their collections. Like Judith Leiber's cohort of sparkly arm candy accessories resembling everything from asparagus to exotic birds or Anya Hindmarch's cereal box and soup can styles.
But the concept of ironic bags is shifting. Now we're seeing love for avant-garde styles becoming more mainstream, with designers long revered for their functional and well-rounded accessories prioritizing the unusual like never before.
Louis Vuitton has reimagined its classic handbag silhouettes and incorporated its travel heritage into its bag designs since the early 20th century. But for Spring/Summer 2023, Creative Director Nicolas Ghesquière turns to irony by blowing up the label's classic key pouches, luggage tags, and padlocks to extreme proportions. Fan-favorite accessories typically large enough to hold a credit card stretch the length of models' forearms, while one top-handle tote is formed from the brand's trademark luggage tag.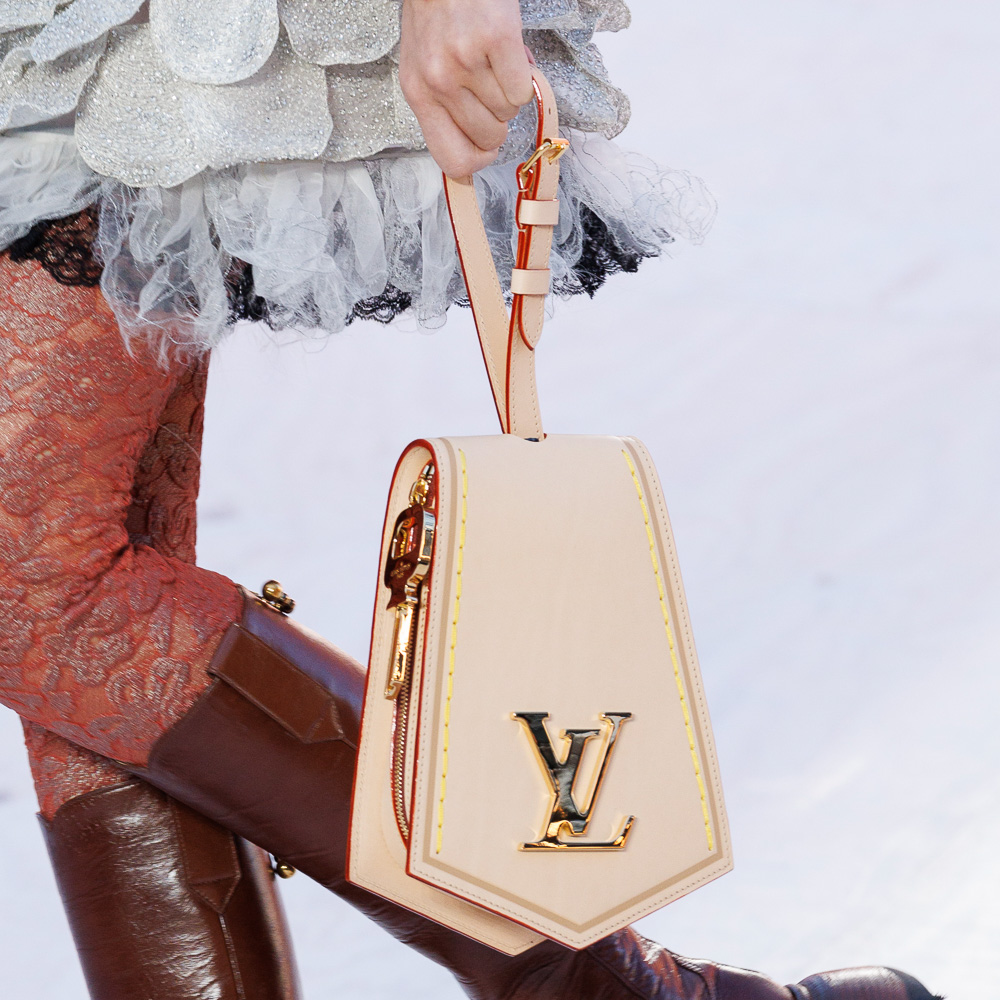 The Ironic Bag Paradox
Beauty is in the eye of the beholder; this is as true for handbags as it is for anything else. One bag lover's trash is another's … well, trash if the cult-following amassed by Balenciaga's Trash Pouch that debuted for Fall/Winter 2022 is anything to go by.
With satire at its heart, the ironic bag phenomenon cannot help but poke fun at our dependence on and devotion to our trusty hand-held sidekicks but the hold that luxury brands and their name tags have on us.
JW Anderson has a slew of fashion fanatics paying hard-earned money for a 3D-printed pigeon bag. It's a hard-shell resin clutch bag in the shape of a pigeon that opens via the wing. Talk about turning luxury on its head.
And perhaps therein lies the appeal. A notoriously exclusive industry that prides itself on exquisite beauty and using the finest materials and embellishments now embracing mundane objects and comical proportions and lauding these styles as the latest must-have bags.
The Brands You'd Expect (And The Brands You Wouldn't)
While more and more designers are experimenting with increasingly idiosyncratic bags, certain labels showcase their devotion to bizarre whimsy more than others.
The internet has long questioned whether Balenciaga is a social experiment thanks to the brand's slew of crazy designs, from heeled Crocs and shoelace earrings to destroyed sneakers and duct-tape ensembles. But perhaps the most compellingly curious designs from the cult label are its handbags.
When the brand's Creative Director Demna was spotted clutching a potato chip bag front row at a graduate fashion show in Antwerp, eagle-eyed onlookers took note. The snack was the basis for his latest wacky accessory that made it down the label's Spring/Summer 2023 runway, becoming the latest in the house's long line of unconventional bags.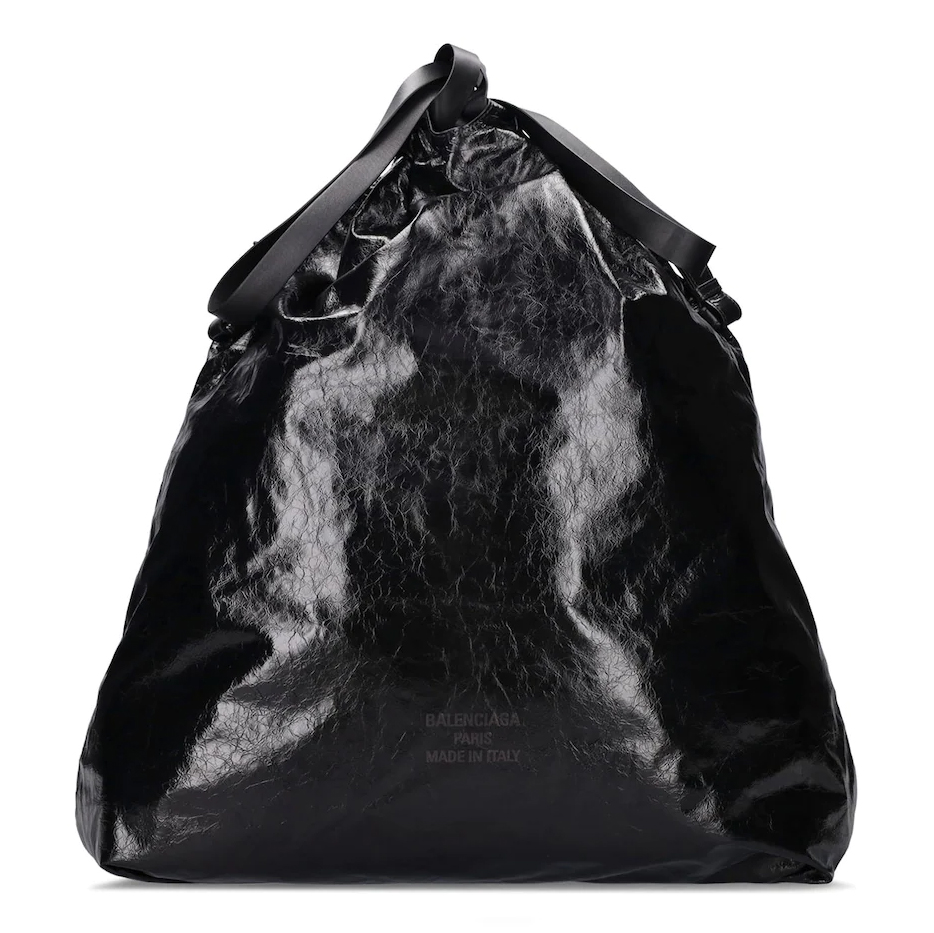 Joining the flavorsome carry-all is the Monday shopper bag – not unlike grocery bags found in supermarkets everywhere. The Arena tote – a large style bearing a striking resemblance to the famous IKEA shopping bag. The Le Cagole Boot bag – this season's must-have boots in shoulder bag form. And, of course, the Trash Pouch – dubbed "the most expensive trash bag in the world."
With each style weirder and wackier than the last, it's inconceivable to think about the emergence of ironic bags without thinking of Balenciaga. And while the brand has no doubt helped pave the way for styles that shock and baffle handbag aficionados, other labels seem keen to embrace bag designs that forgo functionality in favor of fun and creativity.
Fashion's Era Of Experimentation
Fashion is an art form, so experimentation has always been at its core. But with a slew of revival trends emerging and dulling in quick succession over the past decade, it seems only right that fashion is now entering an era of experimentation to create a whole host of new and exciting designs. And handbags continue to present an increasingly fun medium for brands to do so.
The takeaway? Be on the lookout for flying clutches, mammoth pouches, and sweet treats fashioned into carry-alls on the streets of a stylish city near you this season.