Let me level with you: Writing Scandal recaps is hard, because how do you even describe what happens in an episode of Scandal in real English words? If we're being honest, an accurate recap is mostly just grunting noises and lots of eyebrow movements, but that doesn't make for much of a blog post. Instead, I made you some word salad below.
Last night, I was confused right off the bat. We started the episode in the Oval Office, where the president was clearly freaking out about Olivia's disappearance. The vice president's secret army of federal agents, valets, cleaning ladies and substitute teachers had arrived to tell him to sit down, shut up and maybe if he's good Olivia will get to keep her head, although we were given no explanation of how he conscripted all these individuals at various levels of society into his service. Could you even imagine DC if Joe Biden was secretly in charge of everyone? There would be way more national holidays, for one.
After we got a close-up of the Fitz's shaky Scotch hand, we cut to Olivia, whose blowout was continuing to deteriorate. She was attempting to film a proof-of-life video in order to blackmail a declaration of war against West Angola out of Fitz, but she was doing it with a pretty nice rocks glass of water in her hand, as if the cell next door had a fancy bar cart that the kidnappers bought on Etsy.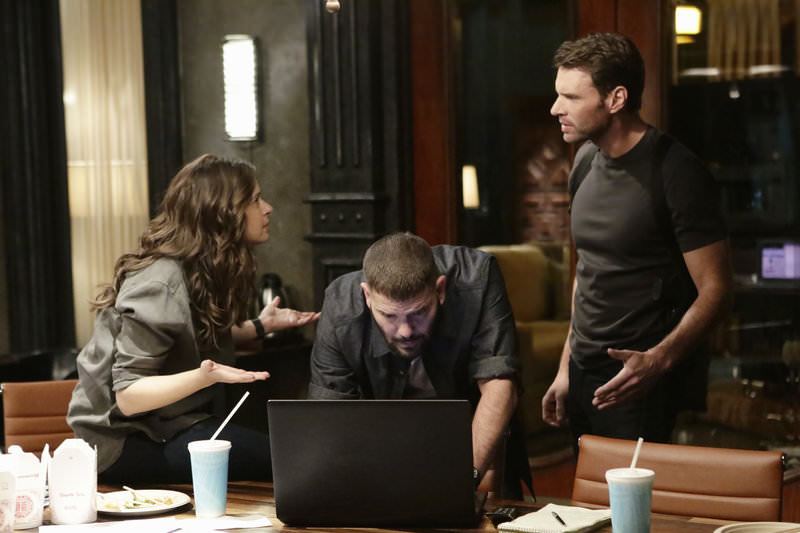 In more serious potential-bodily-harm news, Huck was on the case. He showed up in Portia de Rossi's (which might as well be her character's name) house to scare the living daylights out of her and threaten to gut her daughter if she didn't help them figure out how to find Olivia. Elsewhere, Olivia's captor was not-so-vaguely threatening to rape her if she didn't shut up. What is this show, really, but an endless parade of red wine, cashmere sweaters and general menace?
After cluing in Jake during a clandestine meeting in Olivia's apartment, Fitz proceeded directly to the war room, where he was extremely presidential, except for the fact that he was still trying to figure out whether or not he should let the vice president, who is essentially a terrorist, extort a war out of him. As soon as he had decided that Olivia's life wasn't worth saving at the cost of thousands of innocent African civilians, Mellie got drunk and was like, nah, go ahead, what's one more war on the pile?
And since Fitz doesn't have to go fight in it, he got up at his podium the next day and said that they were going to throw themselves a war. That didn't get Olivia out of the pokey, of course; once you capitulate to terrorists and/or vice presidents, they just double down and see what else they can get. Theoretically, that's three more years that Olivia doesn't get to drink and red wine or wear any cashmere while the vice president makes Fitz sign executive orders awarding the Presidential Medal of Freedom to his balls to ensure her safety.
Olivia's nothing if she's not a hustler, though, and once it became clear that a few drone strikes wouldn't get her sprung from her bunker, she got to work. She was already well on her way to figuring out her captor's soft spots and insecurities, of course; he had become noticeably angry when Liv reminded him that he's not in charge. People who kidnap for a living would be the type to anger at the limitations of their own power, and Olivia knows how to deal with men who are drowning in barely suppressed masculine anxieties better than anyone.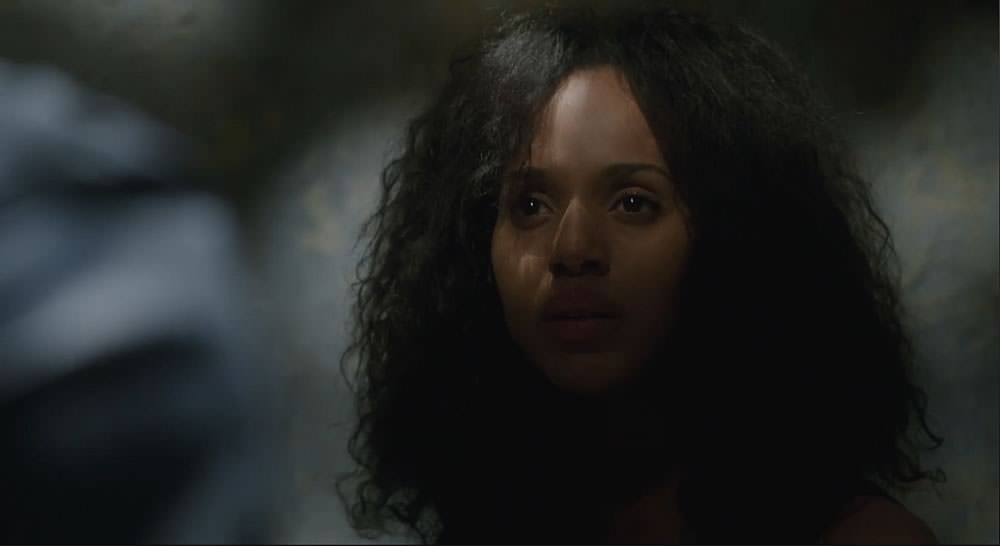 She solves this problem (sort of, anyway) by convincing her kidnapper that he should kidnap her for a second time, this time in order to sell her (and by extension, the president's power) to the highest bidder. He signs up for that plan with little convincing, and she's even able to get a flight on the PJ and a blowout in the deal.
Back at the ranch, though, things were happening that would make Olivia's choice to aid and abet her own kidnapping even more questionable that it seemed initially. There are, after all, more people interested in Olivia's safe return than just the president, and some of them have former professional torturers with well-stocked toolboxes on their side.
That means, of course, that Huck paid another visit to Portia de Rossi's house in the middle of the night, and in order to hasten the process of her cooperation, he did something gnarly to her back that required her to wear a very loose, light silk shirt to work the next day. She wore that shirt straight into Mellie's office, and, of course, Mellie knew exactly what to do.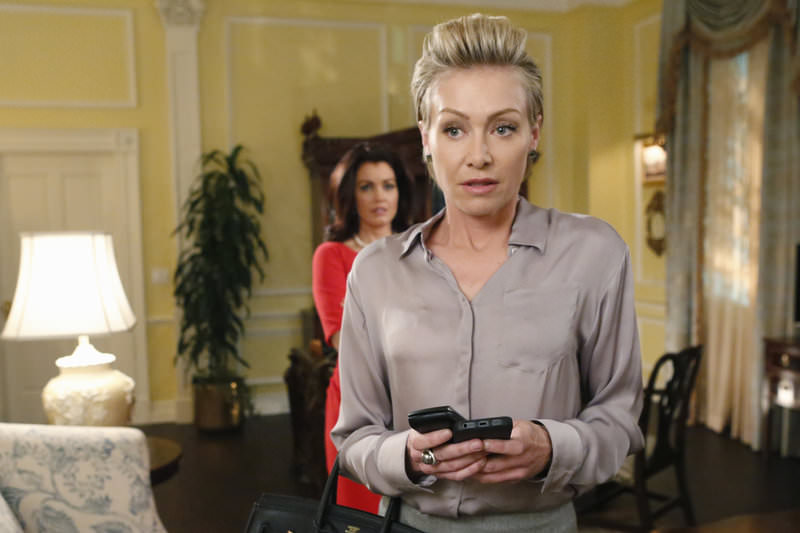 Mellie is, in many ways, my favorite character on the show, and I'd argue that she might be objectively the best, too. She's practical in ways that many of the others aren't, and because her intelligence and judgment aren't venerated in the traditional ways that her husband and his advisors enjoy, when she wants something to happen, she has to work with whatever channels she has available, as women of all social statuses have had to do since the beginning of time. Last night, as always, she rolled up her sleeves and/or her dress and got things done, which meant boning the vice president so he'd pass out in a post-sex haze on his office couch and she could steal his phones to hand over to Olivia's employees.
The president couldn't figure out how to thwart Olivia's captors so he started a war at their behest, and that still didn't do much good; Mellie went into the office of the jerk who ordered Olivia's kidnapping, did what she had to do and walked out an hour later (I'm being generous, maybe) with enough evidence for Olivia's people and the DEA to do their thing and find the bunker. America might have elected mediocrity and nepotism in Fitz, but at least Fitz had the good sense to marry greatness.
The only problem, of course, was that Olivia was already in a salon chair getting fixed up to be sold to the highest bidder by the time the DEA raided the bunker, which was in Pennsylvania. The last we saw of Liv, she was nestled in a seat on a private jet while her kidnapper talked to the president on one of those crazy satellite phones that normally only show up in movies about jungle commandos. Don't worry, though; Huck can figure out how to track it, and if he can't, Daddy Pope is likely to make his return in the near future. That's a whole different kind of worry.
P.S. Please consider supporting our small, bag-loving team by clicking our links before shopping or checking out at your favorite online retailers like Amazon, Neiman Marcus, Nordstrom, or any of the listed partners on our shop page. We truly appreciate your support!