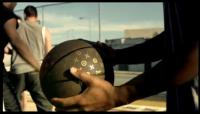 Sometimes I just don't get the French.
In a trademark infringement suit filed in Manhattan Federal Court, Louis Vuitton is going after the Korean Automobile manufacturer Hyundai for using its trademarked logo in a Superbowl commercial. The commercial briefly displays an LV Monogram basketball being tossed around in a random street hoops game.
The French fashion house argues that Hyundai committed infringement by displaying their iconic famous and incontestable logo in the commercial.

However, upon closer inspection, it is easy to recognize that the canvas is only made to resemble the LV print, it is not the true print that Louis Vuitton trademarked in 1932. The faux print was used as a visualization of expensive luxury that is easily recognizable by many and, if anything, only strengthens the awareness of the LV brand as a leading luxury manufaturer.
Keep in mind, would companies not kill to have the opportunity to score a commercial during one of the most watched annual television events worldwide? Not only do the slots cost millions but are also highly contested.
I am no expert on these legal matters, nor do I run a global multi-billion dollar fashion conglomerate, but it is my opinion that the efforts to protect the LV brand may just have gone a bit too far in this one.
We shall find out the court's ruling soon. In the meanwhile, how do you feel as a consumer about this lawsuit?