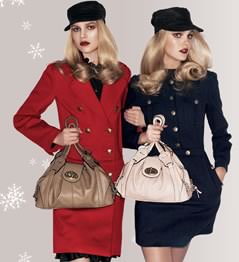 In July, editor of Pop magazine, Katie Grand, was named the replacement of Mulberry's creative director, Stuart Vevers who is moving to Loewe in January. But Mulberry did not have an easy time assigning a new creative director, because just a few weeks ago Grand resigned only a few months before she was set to begin. While the reasoning for her resigning is still unknown, Mulberry had to re-start their search. Mulberry found another replacement naming Emma Hill as the creative director whose designs will debut with the spring 2009 collection. Emma Hill has previously worked at Marc Jacobs, Marc by Marc Jacobs, Calvin Klein, Chloe, and Gap.
[press info below]
Mulberry announces the appointment of Emma Hill as Creative Director with effect from the Spring/Summer 2009 collections.

Emma is a widely acclaimed designer who is credited with the success of accessories collections for many of the great brands including the launch of Marc by Marc Jacobs and bags for Gap.

A Ravensbourne graduate, Emma is looking forward to coming home to a British brand after her years in New York and Paris.

Emma says "I've always loved Mulberry and look forward lending my skills to build on the brand's exciting recent achievements and secure its position in the international marketplace."

Mulberry welcomes Emma Hill to head the design team and oversee all creative functions of the company. Lisa Montague looks forward to bolstering the creative force of Mulberry as the brand embarks on new challenges and brings in resource for future development.