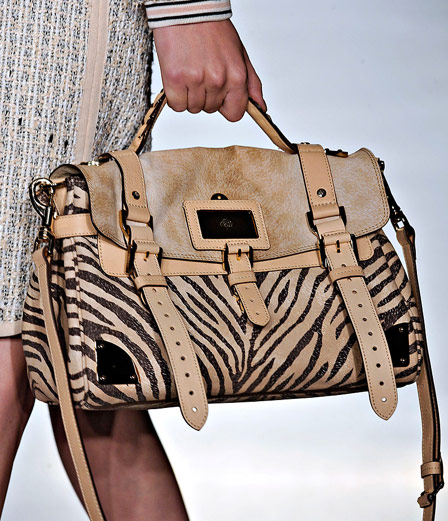 Images via Vogue.com
Although Mulberry has brokered its handbag popularity into extraordinary success above and beyond the world of leather goods, the British brand always remembers on which side its bread is buttered: accessories. Mulberry never fails to include lots of handbag goodies in its runway shows for those of us who are more interested in what the models are carrying than what they're wearing, and Mulberry Spring 2012 included bags of nearly every type imaginably.
There were quirky-girly evening bags with sparkly peace sings (the brand has been very successful with the hippie chic look, so I don't blame them for running with it), the larger leather classics that we know and love in yellow patent that managed to be simultaneously soft and bright, and a couple of new takes on Mulberry's most successful shape, the crossbody satchel. My favorite looks were the ones that mixed textures and exotics, but if you prefer your bags neutral, the collection included a surprising amount of tan and beige leather. A full gallery, after the jump.