Marc Jacobs's bag line is so big that it's hard to ensure that you get a glimpse of all the different styles every season. His designs generally range from whimsical to tailored in a single collection, but as logic would dictate, the furry, sequined and tassel'd offerings sometimes overshadow those on the other end of the spectrum.
The Marc Jacobs Camille Satchel, in all of its chocolate-brown glory, is here to remind us that Jacobs hasn't forgotten the women who actually buy his clothes – urbane, sophisticated and desirous of high-end, high-style objets for use in everyday life. And that's exactly what this bag is: a beautiful piece for a woman whose bag needs to function in the real world.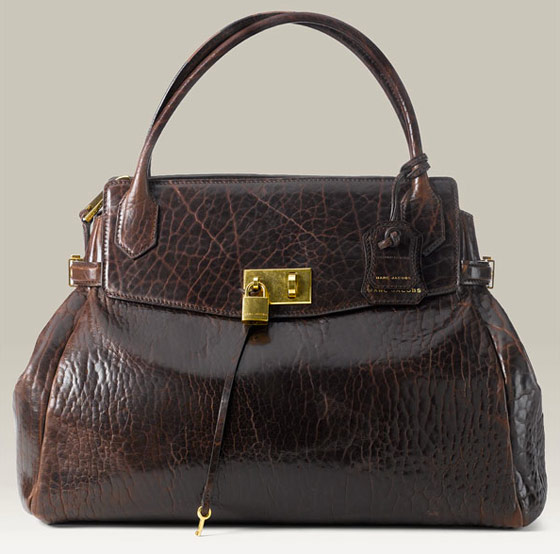 First let's talk about structure – the utilitarian nature of this bag only makes it more beautiful. From the front, the design looks to be that of a flap-top satchel which would require some maneuvering to use, but in reality, the bag has a zip closure all the way across. The design cleverly hides the closure in order to retain the ladylike form of a more traditional bag, but on inspection, it's totally pragmatic.
The other major design element on this simple satchel is, of course, the weathered brown leather. I'm not a big fan of brown accessories or clothing in general, but for this bag, I'd gladly make an exception. The wonderful textures lends itself to a decidedly vintage vibe without allowing the bag to actually look old, putting it perfectly in tune with this season's trends. I knew you had it in you, Marc. Buy through Nordstrom for $1850.