I worship Marc Jacobs. He's my favorite. Really, I think just about everything he touches is brilliant, even the stuff that a lot of people don't like. The one bag I will never eBay (and everyone that knows me and my handbags knows that I eBay everything eventually) is my black Stam from several years back. So when Megs asked me if I wanted to write up a show from New York Fashion Week, my response was more or less, "MARC JACOBS!!!!!!11!!1!," because one of the most wonderful moments in an aspiring fashion writer's life is the opportunity to write about one of the premier shows of New York Fashion Week, even if you don't get to go (and besides, his show always starts late anyway, that diva).
So what did Marc have for us this season? Well, lots of things, my dears.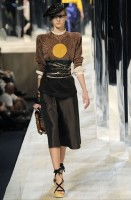 80's shapes – sweaters and blazers with pronounced, exaggerated shoulder shapes were a recurring element in both brights and pastels, as well as some grey here and there. Often they were paired with long, skinny, high-waisted skirts for maximum effect – when compared to the thin line drawn on the bottom, the boldly shaped tops were even more striking.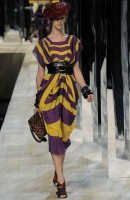 Brights, sometimes mixed with pastels – I think cobalt blue is going to be for Spring '09 what royal purple is shaping up to be for Fall '08: the color that you have to have in some way, shape, or form. Solid-colored bright pieces were often mixed with softly colored, usually patterned pastels for a bit of an art school student look – wear that part of the trend with caution. For me, though, one of the highlights of the show was the mixing of brights with other brights, most notably when mustard yellow mixed with violet and cobalt rugby stripes on two of the collection's most striking dresses.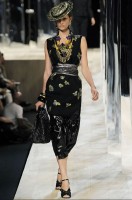 Lots of cinched waists – With very few exceptions, almost all of the 53 looks that Jacobs showcased were accented with a wide, waste-cinching belt or sash. Even the outfits that lacked these accessories had a waist emphasis of some sort, and I couldn't be happier. Everyone looks better with their thinnest point accented, and apparently we needed His Excellency Marc Jacobs to remind us all of this fact. I would happily embrace this aesthetic for the rest of my life.
Layers, layers, layers – Considering how much STUFF each of the girls was wearing, the previously mentioned belts were probably necessary to let you know that the models all had petite frames under there somewhere. Jackets, vests, sweaters, tank tops, dresses, skirts, pants, everything – it all made an appearance on Jacobs' runway, sometimes all at the same time. Most of the models also had on at least one large piece of 'statement' jewelry and often shoes that strapped halfway up their legs. As Project Runway's Michael Kors might say, "That's a lotta look right there."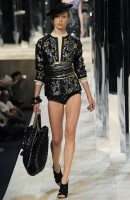 Metallic (but not TOO bling-y) fabric galore – This was probably my favorite part of the show. Much of the fabric had a subtle sheen to it (lots of semi-shiny grey and gold), and there were a few pieces made of absolutely beautiful (but somehow modern) brocade. If anyone can make brocade modern, it's Mr. Jacobs, and I would kill someone for one of his brocade jackets made of black, silver, cobalt blue and gold. I hope to everything that is holy that this trend catches on, because the look with fabrics like that is incredibly polished and chic, and I would love to have designers that make things in my price range to catch on to Jacobs' lead.
I know a lot of people are going to look at the pictures and think "What is this Amanda girl thinking? She is obviously insane to like this," but the key to a Marc Jacobs show is to mentally deconstruct all of the outfits – broken down into pieces, a lot of these items are incredibly wearable when paired with more pedestrian options like skinny jeans and flats (and sometimes, altered slightly – many collections reign things in a bit before the clothes are produced and shipped to retail). And whether you like it or not, Mr. Marc is arguably the most influential designer in fashion today – don't be surprised if you see cheapie versions of a lot of his collection at a Forever 21 near you.
Images via Style
P.S. Please consider supporting our small, bag-loving team by clicking our links before shopping or checking out at your favorite online retailers like Amazon, Neiman Marcus, Nordstrom, or any of the listed partners on our shop page. We truly appreciate your support!