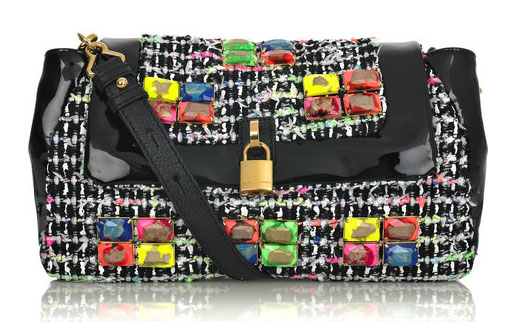 I kind of love the Marc Jacobs Fluorescent Tweed Bag, although I kind of wish I didn't.
What exactly do I find so charming about it? What is there to find charming about a tweed bag with some random, oddly colored gemstones stuck to it? I'm not sure, but as usual, I'm buying whatever it is that Marc Jacobs is selling.
I'm not sure what place wit has in fashion, but I can't help find this bag (along with the birdcage bag that Shannon wrote about last week) incredibly witty and irreverent. They both made me smile immediately when I saw them, and the more I think about it, the more I think that Marc Jacobs is probably smiling too.
Fashion doesn't always need to be so serious, and often it's so much more fun when it's not, which is one of the reasons for my all-consuming love of Lady Gaga. I think she gets it, she infuriates people that don't, and it's not a coincidence that she's also a public fan of Mr. Jacobs. This bag might not be his most practical or classic, but the fact that it exists says good things about the fashion industry. Buy through Net-a-Porter for $995.