Yesterday, I covered the Marc by Marc Jacobs Royale Patchwork Birdie Hobo which was nothing but a disappointment. When I see anything with that involves Marc Jacobs, I tend to expect a lot. There are certain designers out there who have raised the bar rather high for themselves. Marc Jacobs is one of these designers. So, while yesterday I was disappointed, today, Marc Jacobs has made up for the mishap.
Using a word like "classic" in the name of a handbag would have to make almost any reader believe the handbag would have to fit into that category. The mastermind behind this bag knew exactly how to create a classic bag.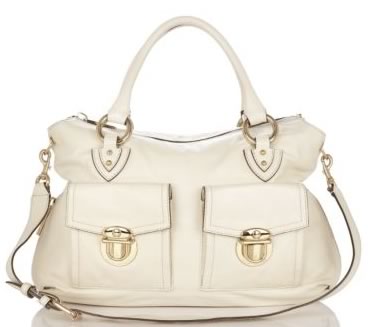 I am completely enjoying every aspect to the Marc Jacobs Classic Carla Leather Tote. First of all, the leather is just fabulous. But, beyond the leather, the shape and style of the bag is, in fact, classic. The double handles have a 4″ drop while the adjustable shoulder strap has an 11.5″ drop. Either way you decide to carry the bag, it will be comfortable.
Open the top-zip closure and you will see an interior zip pocket. Yet, before you even open the bag, you will see front flap-pockets with pushlock closures. These pushlock closures offer a bit of edge, yet not too much at all. And of course, the gold-tone hardware looks fabulous against the leather. I love how this bag can go from day to night without much of a transition. Plus, this bag can be carried by a wide range of ages without looking too old or too young for the woman carrying the bag. Buy through Bloomingdale's for $995.