One of my main beliefs about handbag design is that really intricate, busy complicated ideas work best in very small doses. That may seem counterintuitive, since usually the scale of the idea should match the scale of the canvas, but this little theory of mine has proven itself true again and again. The Marc Jacobs Studded Python Single and the similarly-patterned version of the Marc Jacobs Stam are only the latest example.
When I first saw this look on the much-larger Stam, I was totally disappointed. I love the combination of red and black for a lot of reasons, not least of which because it's the color scheme of my alma mater (Go Dawgs!), and I'd love to have a football-appropriate bag from one of my favorite designers. On the Stam, however, the combination of stamped python, multiple colors, quilting and studs was way too much.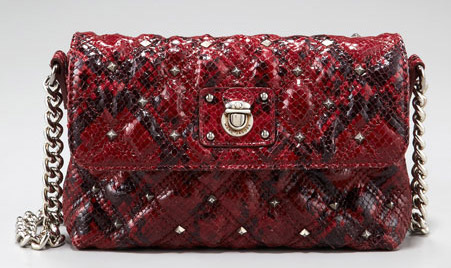 On the Single, all the the fussy elements are distilled down into a portion that's just the right size for occasional consumption. I've always thought that this smaller version of the Single was the perfect size for a night out – it'll hold my keys and phone without bulging, but it's not big enough to look like I forgot to switch my bag before I left the house. When you combine that with all of the intricate elements and a color scheme that would be easy to wear with a lot of evening outfits, you've got a very special little bag indeed. The best part, though, is the same as with all the other Single bags – the somewhat reasonable price. Buy through Bergdorf Goodman for $595.