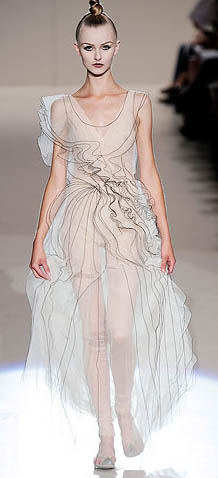 When you're Marc Jacobs, and your show basically is New York Fashion Week, and everyone expects The Next Big Thing from you, and the world is watching, what do you make? Why, you make harlequin kabuki clown ballerina clothes, of course!
Throughout the sculptural-yet-feminine presentation, there were nods to Japanese culture, Comme des Garçons and Jacobs' own seminal grunge collection at Perry Ellis, among a slew of other things. We had ruffles galore, lots of layering (as is to be expected with Jacobs), underwear-as-outwear (also not the first time we've seen that from Jacobs, and it reminded me a bit of this year's Christian Dior couture presentation), and more pastels than I can remember seeing at Fashion Week since…well, ever. I hate pastels, but if MJ can make that gorgeous steel blue into a trend, I might let the peach and lavender go.
Overall, the more I look through the show's looks, the more I like them, but not as much as I did his grimy, glam lover letter to 80s New York from Fall 2009 (or his brilliant show from a year ago, for that matter). Perhaps it's the colors that are turning me off, or maybe the organza genie pants. I appreciate that his models all more shoes that were either completely or almost flat, the bags looked like they'd be intricate and fantastic on closer view, and the clothes are growing on me and looking more brilliant by the minute. There was one obvious masterpiece, though: the show's final look. It was an ephemeral, effervescent confection of a gown that defied gravity and looked like it had been made out of spun air. It wasn't overdone or underdone, but done just enough to show the skill with which it was tailored and the eye with which it was edited. Perfection.
Like the collection or not, that dress should be enough to convince anyone that Jacobs is still the king. It's taking a while for the ideas behind these clothes to settle with me, but the journey through this master's mind is nothing if not enjoyable.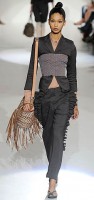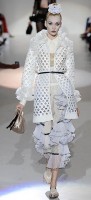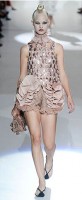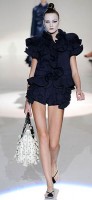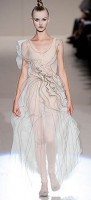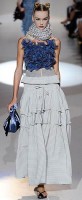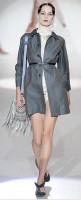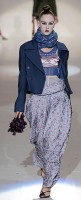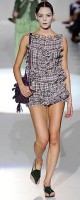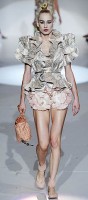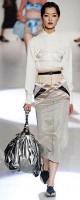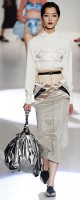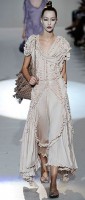 Pictures via Style.com