We are big Marc Jacobs fan-girls here at PurseBlog. But it has been a little while since I ran into a Marc Jacobs bag that I truly found myself wanting. Don't get me wrong, there are many beautiful designs, but I like to see a bag that I don't just want but can justify 'needing'. This bag comes the closest to 'needing' that I have felt in a while from Marc.
A black tote is a staple piece for a handbag wardrobe and the Marc Jacobs Amber Corner Zip Tote should be considered as a potential option.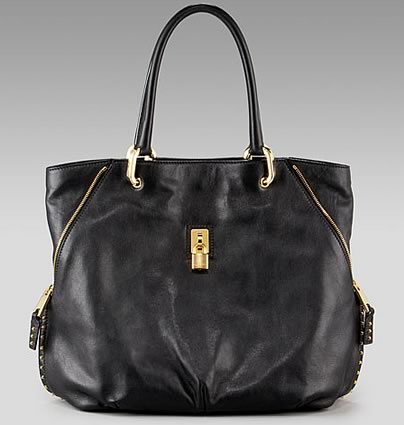 This bag was spotted in green on Cameron Diaz which helped put it on my radar. As far as black totes go, this bag has additions that help the bag stand out without going over-the-top. I am sure the leather itself is thick and smooshy, as Marc Jacobs leather tends to be. There is goldtone hardware and double top handles with rings.
What helps the bag stand out are the goldtone padlock on the front center of the bag along with side zippers. I really am finding myself drawn to this bag. Sure, it is nothing out of the ordinary, but for a simple black tote, it does have aspects that stand out. On the inside there is a zip and open pocket. Overall measurements are 13″H x 14″W x 6″D. Buy through Bergdorf Goodman for $995.