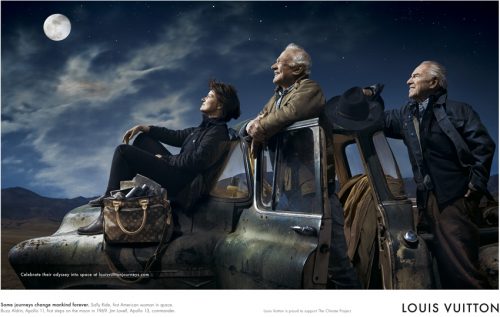 Louis Vuitton brought us news and an image of the new Louis Vuitton Core Values icons. Say farewell to the Coppolas and hello to three new exceptional figures. Louis Vuitton commemorates the 40th anniversary of man's conquest of the Moon and features Buzz Aldrin, Jim Lovell, and Sally Ride as their Core Values icons.
The photograph by Annie Leibovitz is not only amazing but captivating, showing three individuals who have accomplished a similar feat which seemed unimaginable. Louis Vuitton has found a way to inspire with this Core Values Campaign and continues to reach above and beyond.
Buzz Aldrin, who in the course of the historic Apollo 11 mission with Neil Armstrong on 20th and 21st July 1969, became the second man to set foot upon the Moon; Jim Lovell, the commander of the ill-fated Apollo 13 mission in 1970, who −as the world watched with bated breath − heroically guided his crew back to the safety of Earth; and Sally Ride, who in 1983 became the first American woman to venture into space as a crew member on Space Shuttle Challenger.

The new visual, photographed once more by Annie Leibovitz, was shot on the high plateaux of the Californian desert, from where, on a clear night, the Moon takes on an almost supernatural intensity. The three astronauts are portrayed quietly surveying the sky from the battered pickup truck in which they have undertaken this journey together, each no doubt reliving an extraordinary memory. Beside them on the truck is Louis Vuitton's Icare travel bag in Monogram canvas, an allusion to the mythological hero who also dreamed of flight. The tag line, in an echo of Neil Armstrong's famous words in 1969, states: "Some journeys change mankind forever".

Antoine Arnault, Head of Communications at Louis Vuitton, says: "With this latest impressive execution of the award-winning Core Values campaign, Louis Vuitton and its advertising agency Ogilvy & Mather have proved their ability to push the boundaries once again. Space represents the final frontier, and the Moon is the destination beyond which no man has yet travelled."

Simultaneously, in its first integrated press and digital advertising campaign, Louis Vuitton is launching a dedicated website − louisvuittonjourneys.com – on which Buzz Aldrin, Jim Lovell and Sally Ride discuss how the experience of space changed their lives, offering a fascinating insight into Annie Leibovitz's print visual. The site attains a degree of interactivity that is unprecedented for Louis Vuitton, enabling internet users to view the interviews as if they were actually present by, for example, playing them in any order they want, zooming in on an individual astronaut, or viewing the reactions of one astronaut to what another is saying. The interviews, which were filmed with three separate movie cameras to create a strange, gravity-defying ambiance, as if the astronauts were indeed in space, can also be downloaded to a computer, MP3 or mobile phone. Also featured on louisvuittonjourneys.com is a making-of video of the interviews, as well as a focus on The Climate Project, spearheaded by Nobel Peace Prize winner Al Gore, to which Louis Vuitton is making a donation on behalf of the three astronauts.