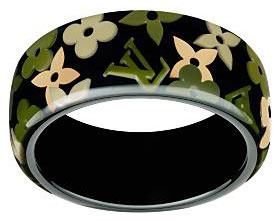 I've been a casual watcher (although, admittedly, not buyer) of Louis Vuitton jewelry for several years now. My thoughts are normally mixed; they have some very chic, very wearable designs, but I'm not entirely sure that I'd want to buy a piece of obviously branded jewelry (this goes, as well, for Chanel's beautiful but logo-clad costume jewelry line). I particularly like their resin bracelets as a cute pick-me-up to an otherwise basic casual outfit without piling on an inappropriate amount of bling.
Logos always present a sort of mental block for me – no matter how much I would like something otherwise, I always manage to talk myself out of it if it's got an obviously displayed brand name. Perhaps it's because it makes me feel like I'm being somewhat of a bad consumer; if a brand name is obviously displayed, are the odds higher that I'm paying extra for only the name? And as a serious fashion watcher, shouldn't I be more conscious of such ploys for my extra cash?
More importantly, am I in the financial position to pay $400 for a resin bracelet? Heavens, no. But if I were, I think I'd get over my logo phobia and get the Louis Vuitton Farandole bracelet. I like the lack of sparkle, and I also like that it's in the colors of their recent camo collection, which don't often show up in high-end jewelry. This would be wearable during the daytime with jeans and a cute black top (or any similar variation on that theme). Is it subtle? Not particularly, but Louis Vuitton devotees (at least the ones I know) are not subtle people, and if I'm paying that much for something that's not jeweled, I wouldn't mind if a few people noticed it, logos and all. Buy through eLuxury for $400.