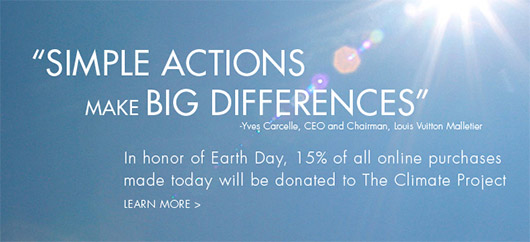 Louis Vuitton North America announced that 15% of all sales made through their online store would be donated to The Climate Project. Louis Vuitton has been actively pursuing efforts to reduce its carbon footprint and overall impact on the environment over the past few years. What better reason than to shop when you help a good cause?
We had the opportunity to pick brains at Louis Vuitton's North American Corporate headquarters, read more about LV's continued involvement below.

PB: With so many organizations to choose from, what was the appeal in partnering with The Climate Project?
The Climate Project has made great strides in educating people all over the world about climate change and the solutions that will be necessary to solve the crisis. Louis Vuitton is a company steeped in the tradition of transmitting heritage, and has always has a special interest in sustainable development. In recent years, Louis Vuitton has concentrated its efforts on reducing its Carbon Footprint, because as a result of our geographic expansion and of our business model, we have realized that air transportation of products is the primary source of our greenhouse gas emissions. The company now favors transport of products by ship, far mre environmentally friendly than transport by air (as of today, 60% of all leather goods are transported by ship).
PB: We read that Louis Vuitton has made efforts to reduce the impact of its activities on the environment. What have you done to decrease the company's carbon footprint?
We implemented the Carbon Inventory in 2004. This Inventory has allowed us to accurately measure the impact of our activities on the environment. Since then we have been efficient in modifying our organization and reducing our carbon dioxide emissions. Moreover, this initiative has raised environmental awareness and a sense of responsibility of staff members throughout the company. To name a few examples, we have:
reviewed transportation methods of products (use of sea, river and
rail wherever and whenever possible)
reviewed packaging (use of eco-labelled paper for all packaging)
reviewed store energy consumption (all new stores consume 30% less energy due to new lighting concept)
reviewed all environmental friendly actions at Louis Vuitton headquarters (which has received the ISO 14001 certification in Octobern 2008)
created green buildings (Louis Vuitton central warehouse in Cergy, France (2007); Louis Vuitton Shoes Workshop in Fiesso, Italy (2009)…)
created an internal "Environment Task Force" worldwide to exchange best practices between different regions and countries
PB: What are your immediate expectations with your partnership with TCP, and do you foresee these types of collaborations extending into the rest of the fashion industry?
Environmental sustainability concerns all of us. The luxury industry, which is synonymous with beauty and excellence, must strive even harder than others to be exemplary in preservation of the environment. As a leader in luxury, Louis Vuitton has the responsibility to intensify its efforts to reduce its environmental impact of its activities, and also to raise awareness by encouraging a collective commitment both inside and outside the company. Partnering with The Climate Project, known worldwide for its actions and its achievements, enables us to promote awareness of the climate change and what can be done to help.
PB: Can we expect to see any eco-friendly pieces by Louis Vuitton, namely a handbag?
We are focusing on the most important and urgent matter, which is to reduce energy consumption resulted from transportation and other activities. Ecological products is not a priority in this sense how ever new eco-friendly materials are constantly proposed as an alternative.
P.S. Please consider supporting our small, bag-loving team by clicking our links before shopping or checking out at your favorite online retailers like Amazon, Neiman Marcus, Nordstrom, or any of the listed partners on our shop page. We truly appreciate your support!