The House of Louis Vuitton is known for seasonally releasing many bags and collaborating with artists to create highly coveted collections. Arguably one of the most sought-after lines from Louis Vuitton was the Multicolore monogram release, which reinvented Louis Vuitton's Monogram print in a rainbow of colors that sat atop a white or navy blue canvas.
Though under the helm of Creative Director Marc Jacobs at the time, Japanese artist Takashi Murakami created Louis Vuitton Multicolore and became the mastermind behind other hits like the Cherry Blossom and Monogramouflage lines. When I saw these new versions of the Louis Vuitton Coussin, it felt reminiscent (in the best way) of the early 2000s Louis Vuitton fandom.
Blast from the Past
The Louis Vuitton Coussin was released to much fanfare, and it is a bag I see very often in the wild, in its many renditions. But this latest release speaks to my 2003 soul, the version of me who just entered college and was obsessing over bags and cutting out images of ads and celebrities and their bags between classes and swim practice. That version of me squealed with delight and this newest version. This colorway was so iconic, that we still have an active 288 page long thread dedicated to it on our forums.
The New 2022 Updated Version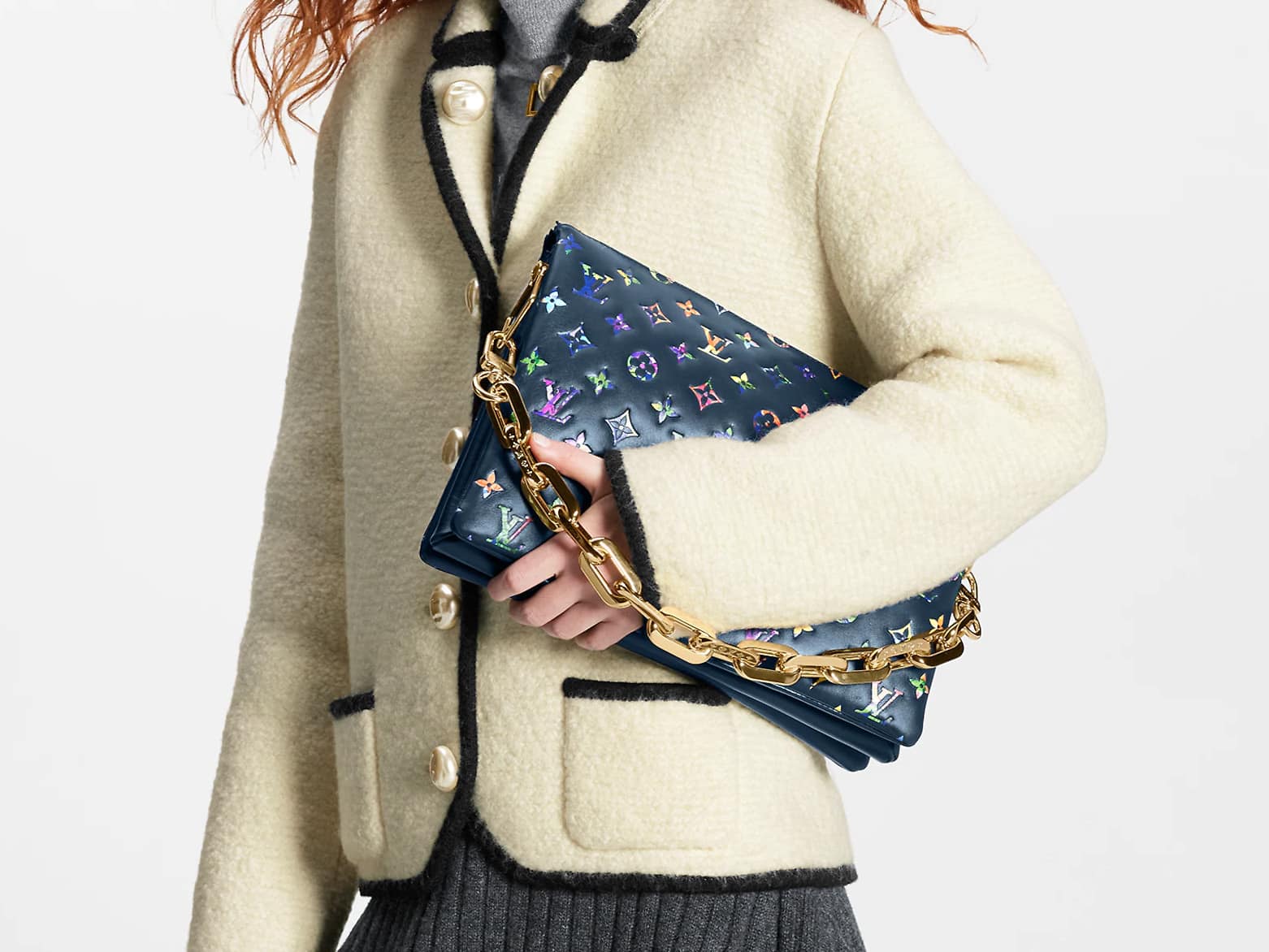 The difference here is that the embossed Monogram motif features a discreet multicolor floral pattern inside the LVs and Monogram flowers, resembling the famed Multicolore from afar. There is a white leather option as well as bnavy blue leather. Again, this suggests a kinship to the Multicolore.
The Coussin features puffy lambskin leather and is quite the multifunctional bag, with a chunky chain strap and a wide textile removable and adjustable strap. You can also remove all the straps to carry this bag as a clutch. There are two sizes available: PM, smaller, and larger MM. The interior features two independent inside compartments separated by an inside zipped pocket.
I want to say I need the white version, but I have two small kids and seem to always find myself in trouble with color transfer, so the navy leather is a safer bet. The size price varies by $650 and is on the steep end, $5,000 for the PM and $5,650 for the MM.
Shop the newest Louis Vuitton Coussin now!