I have a hard time putting into words the excitement I felt when I received the press release on the latest Louis Vuitton Core Values campaign. As with the previous campaigns featuring outstanding personalities like Sean Connery, Michail Gorbachev, Keith Richards and the famous astronauts Buzz Aldrin, Jim Lovell and Sally Ride, the latest campaign could not have chosen better Core Values icons.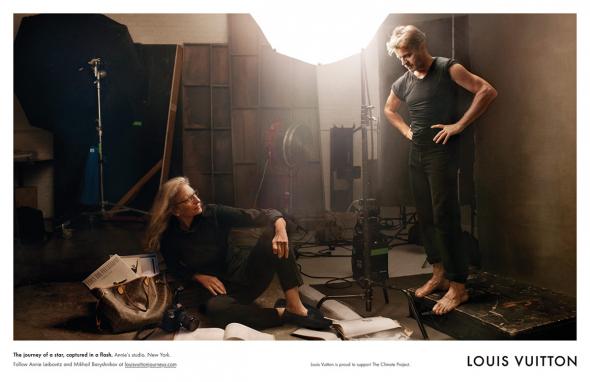 There is no other photographer whose work I have adored and studied as much as Annie Leibowitz's beautiful portraits for Rolling Stone, Vogue and Vanity Fair. Hence, I was delighted to find out that she would be featured in the latest Core Values campaign, alongside her close friend and legendary dancer Mikhail Baryshnikov. The self-portrait captures a delightfully intimate moment between the two friends in Annie's NYC studio, with subtle lighting accenting key elements of the scene.
Absolutely marvelous! Fantastic of the fashion house to honor the exceptional photographer and artist who has been going through rough times financially in the past year.
Press release below!
LOUIS VUITTON
ANNIE LEIBOVITZ WITH MIKHAIL BARYSHNIKOV:
A UNIQUE SELF-PORTRAIT FOR LOUIS VUITTON

As Louis Vuitton's Core Values advertising campaign enters 2010, Annie Leibovitz, the photographer whose remarkable portraits have greatly contributed to its success, turns her lens upon herself in the company of her long-time friend, the legendary dancer and choreographer Mikhail Baryshnikov.

Never before has an Annie Leibovitz self-portrait appeared in the context of an advertising campaign, and the story behind it is almost as fascinating as the image itself. Over the course of their three-year collaboration on the Core Values campaign, Louis Vuitton and Annie Leibovitz have forged a relationship of mutual trust and respect. Given the photographer's recent personal and financial troubles, Louis Vuitton wished to offer support in the most positive way possible, and suggested that she become the next exceptional personality to feature in the Core Values campaign. Annie Leibovitz was touched and flattered, and accepted on the condition that the self-portrait should show her alongside one of the stars she has spent her life photographing – her close friend Mikhail Baryshnikov.

One of the foremost dancers of the 20th century, Mikhail Baryshnikov defected from the Soviet Union at the height of the Cold War and went on, in the course of an exceptionally long career, to grace the world's greatest stages, before breaking new ground as an artistic director and choreographer. For Louis Vuitton, he is photographed in Annie Leibovitz's New York studio, standing on a box in his dancer's uniform of black T-shirt and trousers, with a subtle spotlight falling on his uniquely gifted feet. Annie Leibovitz sits on the floor nearby. Next to her is her camera, from which she is rarely parted, and a Louis Vuitton Neverfull holdall in Monogram canvas packed with books on dance. The tagline reads: "The journey of a star captured in a flash".

Antoine Arnault, Head of Communications at Louis Vuitton, comments: "We have the greatest respect and admiration for Annie Leibovitz, both as a person and as a professional. We were delighted to be able to offer her our support in troubled times, and she has responded like the consummate artist she is, with a truly exceptional image which – with its association of photography and dance – once again broadens the scope of our Core Values campaign."

The new Core Values visual will appear in the February 2010 issues of international titles. A film evoking the encounter between Annie Leibovitz and Mikhail Baryshnikov will go on line from 11th February at louisvuittonjourneys.com, preceded by an exclusive press preview from 1st February (louisvuittonjourneyspress.com). The film can also be accessed via the Louis Vuitton corporate website louisvuitton.com.