The Louis Vuitton name has become ubiquitous with the art of travel. Their lineage of creating trunks and luggage for travelers traces back to 1854, when Louis Vuitton began offering elegant and pragmatic trunks. Since then, the House of Vuitton made trunks for explorers, adventurers, princes, elegant ladies, and artists. Over time the trunks have evolved and this month Louis Vuitton is releasing their book: Louis Vuitton: 100 Legendary Trunks.
I prefer picture heavy books, and this is precisely what is being presented. The book showcases some of the most beautiful creations from the House with over eight hundred photographs. This way you can see many of the trunks over time, whether it be a trunk-bed, steamer, caviar box, circus trunk, or a toiletry kit to name a few. The book also delves into the process of how Louis Vuitton makes their trunks.
Coincidentally, we recently strolled into the flagship LV store on 5th Avenue here in New York and inquired about possibly getting a Vuitton trunk for our living room. To our surprise we learned that LV does not stock any regular trunks (aside from smaller suit cases). All trunks have to be made custom to specific orders for the customer. Turnaround time is estimated around 9 months and the process appears quite elaborate. First, the customer is asked to submit his or her wishes to the local Vuitton store, which are then sent to the corporate headquarters in Paris for approval. Then, rough sketches are created and a pricing proposal is returned to the customer. If the customer approves, a 25% deposit is required before work commences on the new trunk. A small coffee table sized trunk is said to run between $25,000 to $35,000… with the maximum price only limited by the imagination and requirements of the customer.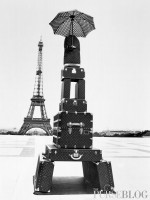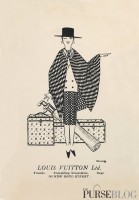 Coinciding with the book release, from now to February 27th, 2011 there will be an exhibition at the Carnavalet museum titled Voyage En Capitale: Louis Vuitton and Paris. If you can not make the exhibit in Paris, simply take a look at the photos we are providing or purchase the book to see more into the world of travel by Louis Vuitton. $170 via LV.