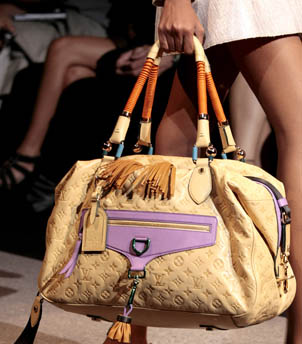 Between the half-shoes/half-claws shown by Alexander McQueen and Chanel Spring 2010 being show in a barn with smirking models, I thought I had seen every ridiculous thing that Paris Fashion Week had to offer.
And then at Louis Vuitton Spring 2010, creative director Marc Jacobs saw fit to attach furry tails to the bags. Yep, that happened.
As far as bags go, the show started…dreadfully. Most of them appeared to be made of dip-dyed cotton canvas in candy colors with coordinating fluffy appendages streaming off the back, which were sometimes bigger than the bag itself. After a dozen looks, I thought I was in for a very unpleasant show.
But after a little while, things started to look decidedly better. I'm not sure if it was just the fashion show version of Stockholm Syndrome, I guess that's always possible, but things rallied a bit during the middle and end portions of the show. Instead of canvas bags with animal parts hanging from them, Vuitton returned to the leathers and embossed logos to which fans are slightly more accustomed.
Which is not to say the bags were boring – they weren't. The opposite, in fact. And they weren't entirely successful, but I appreciate the combination of colors, materials, and textures that Jacobs attempted in order to make something new out of one of the most recognizable logos in the fashion world. The collection was heavy on messengers, and the ones that combined logo leather with smooth in different colors were probably the best bags of the show, in addition to the duffel bags made of similar textures. Please, Marc Jacobs, if you're out there: please give the tassel-covered bags a rest. Thanks.
The more I look through the bags from the last half of the collection, the more the eclectic ideas and influences grow on me, and I'm not sure what my final opinion will be once the dust of fashion week has settled. One thing is sure, though; adventurous collections like Louis Vuitton, John Galliano and Alexander McQueen are what make Paris the world's reigning fashion city. New York has some catching up to do.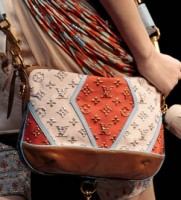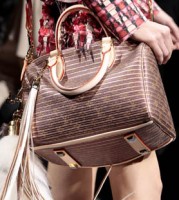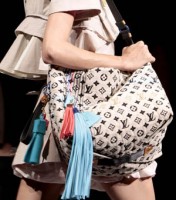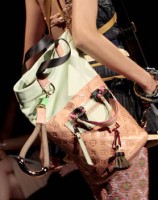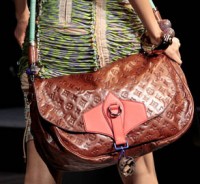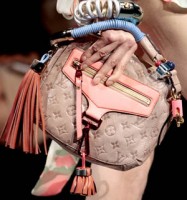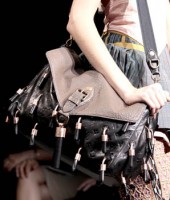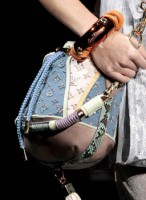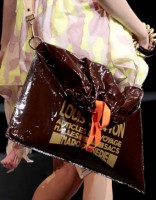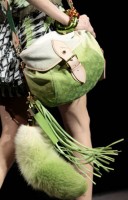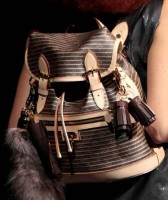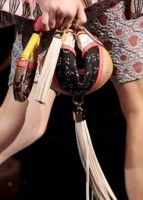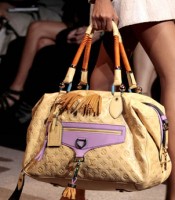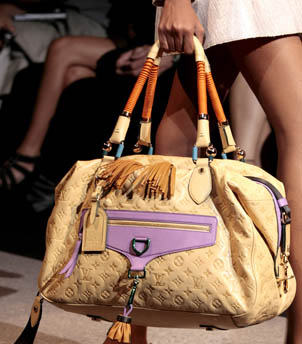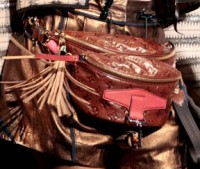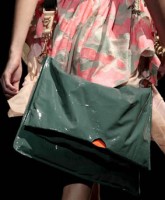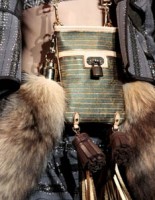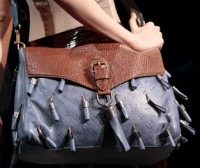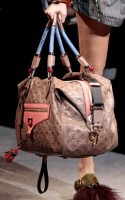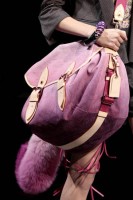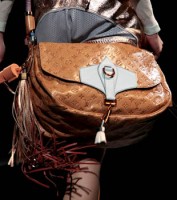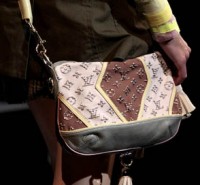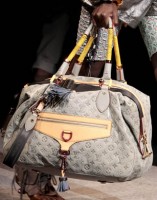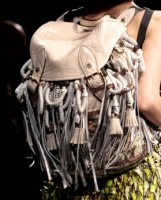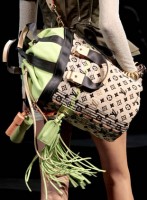 Images via Style.com.