You guys all know that my handbag love started at a very, very young age. I don't even think I had reached double digits yet when I knew that one day, I wanted to own a Louis Vuitton Speedy Bag. In fact, I recently found an old collage when I was cleaning out my room at my parents house, and sure enough, there was a hastily cut magazine clipping of a Speedy, plastered in between some Puma sneakers and a denim jacket I thought was insanely cool. When I think about my love for designer bags, I'm really not sure where it stemmed from. I didn't grow up with a mother who was a fashion devotee, or an order sibling who was into all things designer either. I did get my love for accessories from my grandmother, but her idea of a good bag always had less to do with the name on the inside of the bag and more to do with the pricetag. And though it may sound silly, I always say that I was just born to love bags.
I added a Neverfull to my growing bag collection in my early twenties. Not so long after, Louis Vuitton released the Mon Monogram option, and eventually down the line released a version that included a zippered pouch. Each time a new Neverfull option popped up, I was bummed that I had gotten the original. And that traditional continues, because I'm loving the latest option: The Louis Vuitton Patches Neverfull MM. We introduced you to this collection a few months back, but we were excited to finally get our hands on one of these pieces to see for ourselves.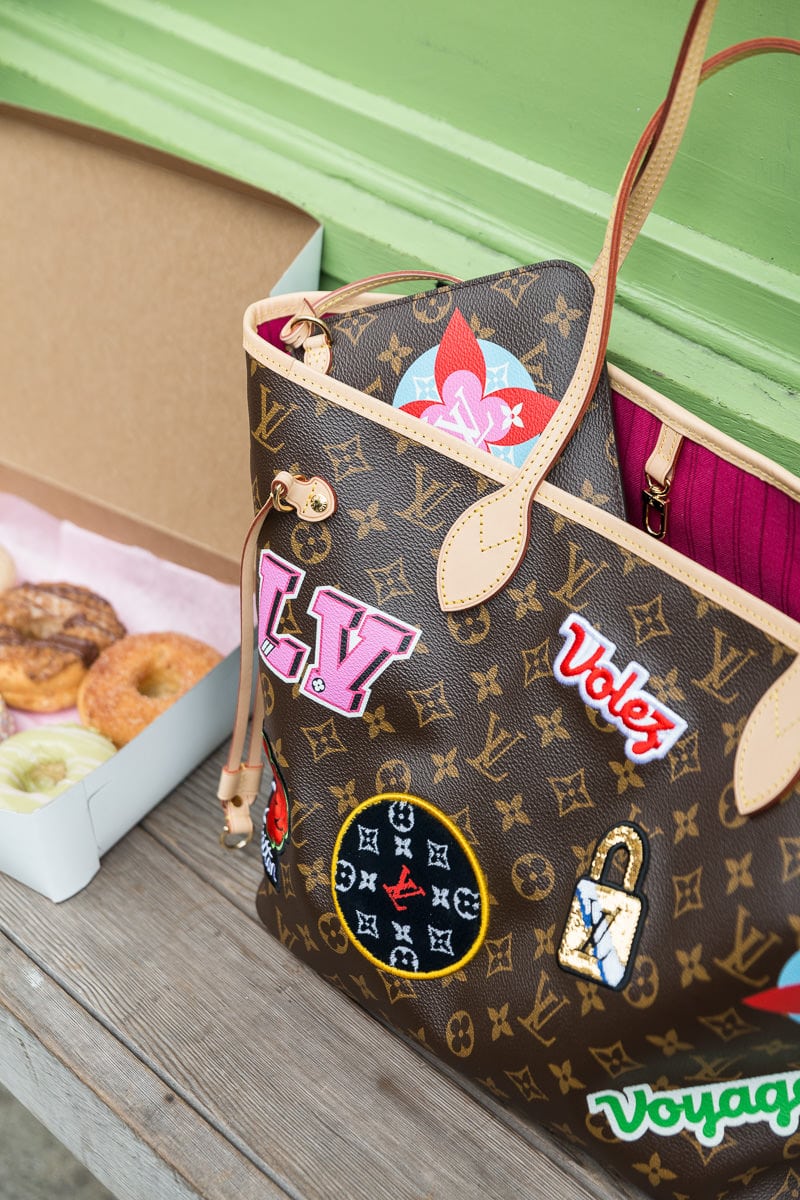 The Patches Neverfull is available in the MM size, which is the medium. This bag is a great size for an everyday tote in comparison to the GM, which is the size I personally own and am obsessed with for traveling. My Neverfull GM has been everywhere with me—from road trips, to train treks, to long flights, you name it, it's been through it all, but it's a little big for everyday use. One of the things I love about a tote in Monogram Canvas is the durability factor. My bag is years old and though the leather has aged, the body itself barely shows wear. The MM is not only great to use every day due to its size, but the durability factory is a huge plus, too.
Like the name so obviously implies, the Patches Neverfull MM features fun graphic patches atop Vuitton's traditional Monogram Canvas. The patches differ in that some of them are painted on, while others look more like actual embroidered patches. Inside, the bag is a bright, hot pink and features an interior zip pocket like the Neverfulls that have come before. This tote also comes with a removable pouch, one feature I wish my dear old Neverfull had, too!