I'm hard on Jimmy Choo, but only because the company has such rich promise and resources that I tend to hold it to a higher standard than I would a smaller label with more limited ability to hire design firepower. To whom much is given, much is expected, and I expect greatness from Tamara Mellon and her design team. Occasionally, I get it.
The Jimmy Choo Phebe Woven Leather Tote might not seem like an innovative design achievement, and that's because it's not. What it is, though, is perhaps as close to an ideal high-end summer bag as you can get. And maybe that's just as good, if not better.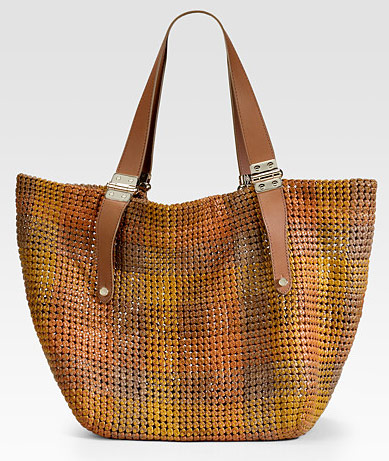 We've spoken previously about the unpleasantness of laying down four figures for a straw bag, and it's something that I just cannot bring myself to do. It's not an issue of income, but one of principle – I know beyond a shadow of a doubt that those bags aren't worth the exorbitant prices, and I already have to suspend disbelief to drop that kind of money on leather. To do it for straw is beyond the pale.
What Choo has given us here is the best of both worlds. This tote has the same breezy, lightweight, handmade (although it's not) feel of a straw beach bag, but instead, it's woven leather with a subtle shade variation and some seriously cool handle attachments. I wish it were also available in brighter colors, but if you like tan for spring, this is a great bag to get the beach feel with luxurious materials. Just don't take it to the actual beach. Buy through Saks for $1650.