Breaking into the designer handbag market is not easy. It takes skill, longevity, the right look, the right name, the right people. Two weeks ago we met the designers behind Hunting Season, a relatively fledgling handbag company which burst into the handbag market and is already sitting comfortably on the main floor at Barneys New York. Danielle Corona, previously with Valentino, and Jason Salstein, formerly with VBH, may be young, but their drive, knowledge, and passion shines through both their personalities and work. Their focus is quality. And with every detail that is taken into account, each handbag proves it is a seasonless masterpiece. These high school friends, who happened to grow up down the road from me, are a dynamite design duo; truly, a force to be reckoned with.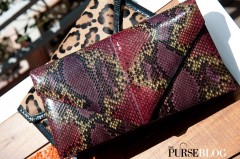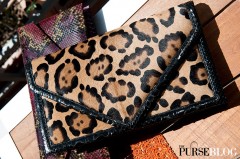 We chatted for hours over a delectable Italian meal in the Miami Fashion District, in which we learned Danielle and Jason will eat just about any type of eccentric cuisine (octopus was their appetizer). More importantly we talked about the Hunting Season collection. Their story is jam-packed with stints in Italy to fashion consulting in NYC. They have spent years learning the ropes and being go-to's for the best of fashion industry. And while the purpose of our lunch was to go over their line, we hit it off with them from the beginning. They are truly a down-to-Earth duo who just so happen to have a brilliant handbag company. Our lunch concluded with an array of Hunting Season bags being shown to us so we could truly see what their brand entailed.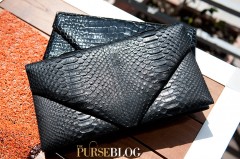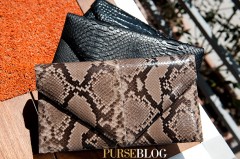 The prices of their bags range anywhere from $995 to over $6,000. Don't be quick to judge. You may not have one of their bags in your hands to inspect, but I can give you my own first hand account. Everything about Hunting Season handbags is taken into consideration, from the materials to the factory to the hardware. Just from feeling and seeing the skins, we knew the highest quality was being used. But if an exotic bag from their collection is out of your price range, you must consider the fashionable City and Weekender. For all of trips Vlad and I take the Weekender would be an amazing travel companion and I would be lying if I said I have not brought it up to Vlad over the past few weeks. The City is a smaller version of the Weekender, perfect for daytime wear. The City goes for $995 while the Weekender will run you $1530 and both can be purchased directly through Hunting-Season.com. We were told many bags and options can be ordered via their website so make sure to inquire. Expect more reviews on Hunting Season to come soon!
Check for more info on Hunting Season at their website. Also, check out Barneys New York as well as Edon Manor (in TriBeCa) for Hunting Season Envelope clutches.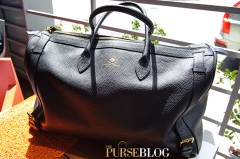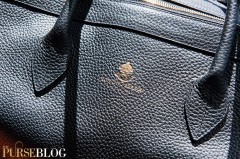 PB: How did you decide to start a handbag line?
Well Jason and I always had an interest in fashion and design and we just really loved the idea of handbags. They are wearable pieces of art. The details, knowledge, craft that is required and goes into making one our bags is so intriguing and fascinating. The whole process is almost like a sculpture coming to life. We both love how a woman's confidence exudes when she picks up a beautiful bag. It is truly empowering. Whether its jeans and a t-shirt or a black tie dress, a handbag completes an outfit. SO when we decided to start the company and create the brand we knew that our artistic freedom would best begin with bags.
PB: How did you end up with the name Hunting Season?
The name HUNTING SEASON actually came to us after a few of the first designs were complete. We drew a lot of inspiration from images reflecting the 1920's-1940's including Louis Icart, Erte, and earlier works such as still life's by Jean-Baptiste Chardin and George Stubbs. We even referenced iconic women such as Great Garbo, Catherine Denueve, Morticia Adams, and Cruella Devil. At the same time we were looking at movies such as Gosford Park and Clue. We loved the idea of English Manor's, libraries, chesterfield tufted couches, and moors. This fit in well under the hunting and luxury umbrella. We wanted to create not just a product but an aspirational brand. All of these combined alluded to a strong name with a sinister edge. It somehow just popped in our heads and we knew it was great fit!
PB: Which handbag from your line is your favorite, why?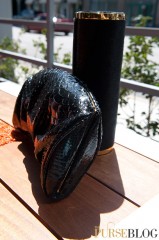 Although it's extremely hard to pick, but if forced I (Dani) would say it is a toss up between our popular envelope and our crescent. The envelope is such a classic practical bag. It can be worn with almost anything and to any occasion day or night. And of course fabrication is endless, be it python, leather, ostrich, satin, alligator, shagreen, pony etc, but I (Dani) have found myself gravitating to the black shiny alligator. It goes with everything and is so chic and timeless. The crescent is precious. It is like a jewel, delicate yet powerful. The frame is handmade in Italy by the best metal maker in the world. He works with the best houses including Chanel, Hermes and Vuitton. Our Duchess for this upcoming Fall season however, especially in the Purple Rainbow Python, is creeping on my (Jason) list though. The juxtaposition between the edgy skin and the ladylike shape turned out magnificently. But the city bag is the most easy to wear take anywhere and durable. Throw it on with a pair of jeans and a t-shirt and your ready to go! You will look chic and effortless doing so!
PB: The hardest part about breaking into the accessory world…?
The hardest part about breaking into the accessory world is patience. Since the fashion industry is so over-saturated, you have to believe in your vision and product and hope and just stay true to it. It takes time to develop a brand and find the right factories and business partners. But with the right formula, hard work, and perseverance it all becomes worth it.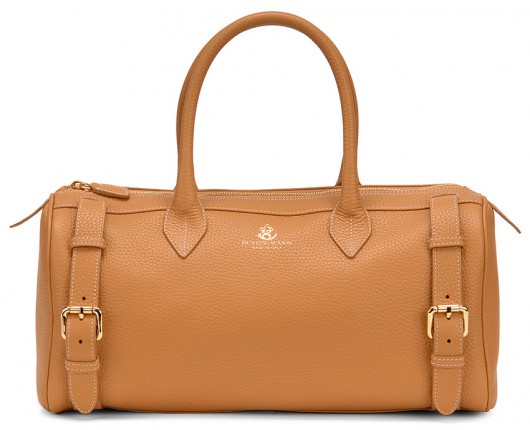 PB: Plans for 2009?
Well at this moment we plan on keeping the line exclusive and sold at the best stores around the world, remaining selective and catering to the consumer who understands quality and beauty. We slowly are adding international and domestic accounts strategically and are beginning to look into creating other products including men's, as well as creating limited edition couture pieces and collaborations. A few things are in the works, but we would like to remain silent until the launch is complete and we are ready to execute them best.