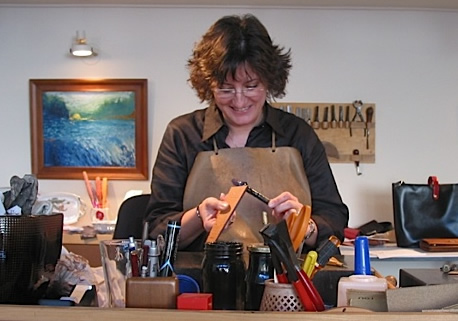 Beatrice, owner of April in Paris
There is something about Paris that changes people. If you have been, you will know what I mean. If you have not, you must go. Beatrice Amblard, the designer behind April in Paris, was only 16 when she visited Paris for the first time, but it was love at first sight. "The smell of the leather, the glue and the wax went right to my nose. I decided right there on the spot that I would become a master artisan in leather."
And what better place to work with leathers than Hermes in Paris? Beatrice was hired as an apprentice where she learned the art of creating handbags. At Hermes, she worked on the famous Hermes Kelly for 14 years. The craftsmen and women of Hermes are famous in their own right; as they are able to perfect the double stitch and meticulously create leather masterpieces.
Beatrice took all that she learned and opened her own boutique, April in Paris in the San Francisco in 2000. She focuses on classic and contemporary pieces. Being the only Hermes leather artisan to open a store in the US, Beatrice is able to bring something to the table that is lacking in this "it bag of the season" market, timeless elegance. She spends 60 hours a week using centuries-old tools to make wallets, belts, briefcases, and handbags. While her products are not 'cheap', they are a fabulous option to Hermes, the brand that is hard to come by and whose prices are going through the roof. It is very evident that Bea has a Hermes background, as her craftsmanship is divine and some of her bags have a feeling of Hermes.
Every piece is made-to-order, so there is a waiting period of 4-6 weeks. Yet this insures that you can choose a design, color, and material, to make a tailored finished product to your liking. Currently, all handbag orders can be placed via phone, 415.750.9910, or you can Beatrice directly at bea@aprilinparis.us . Right now, there is a shopping option for small leather accessories and belts (all to die for also!)
With every big fashion house pushing out trendy bag after trendy bag, we sometimes forget about the delights of smelling the beautiful leather of a new bag and inspecting every fine detail of a well-made bag. Because of this, I find April in Paris to be a refreshing and delightful line, brought to us by a top-notch artisan.
Visit April in Paris online or at her store located at 55 Clement Street, San Francisco, CA 94118.
Below are 4 of the latest designs by Beatrice: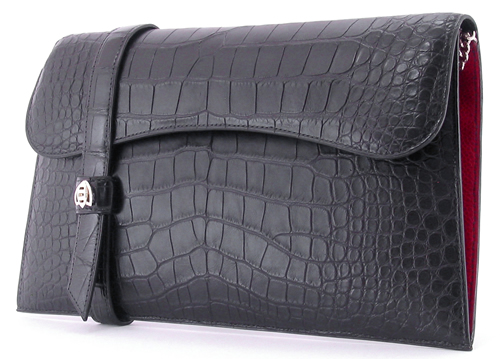 1) Celeste, black millennium alligator $6500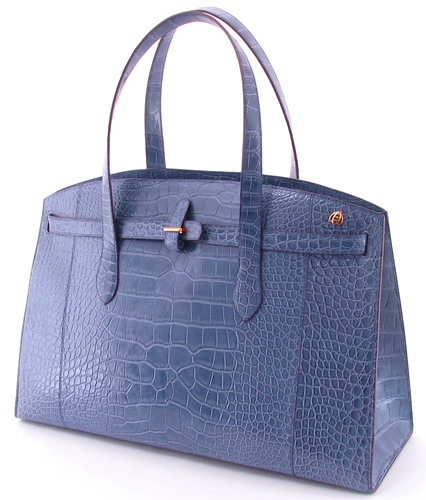 2) Boston tote, denim millennium alligator $9500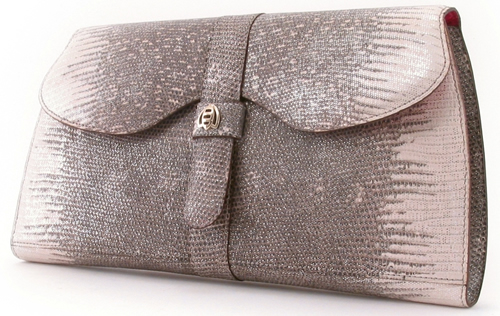 3) Reno Clutch, ring lizard $3500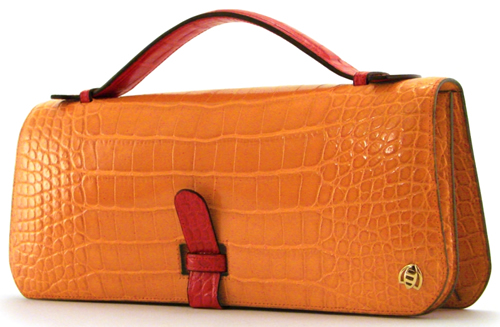 4) Colette Clutch, millennium alligator $5500