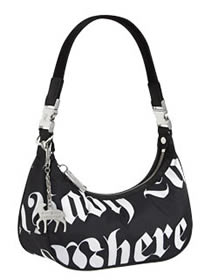 These days you can not call yourself a successful female spotlight celeb without getting your name out in a way other than in your usual line of work. For attention whoring sl*ts like Paris Hilton periodic leaks of dubious smut tapes and Sidekick hackin' does the job, while other femmes rely on sporting their own fashion or fragrances.
Gwen Stefani, sexy lead singer from No Doubt contracted Le Sport Sac in '04 to release her line of stylish handbags (along with other fashionable clothing articles that we don't care about). The L.A.M.B. Series II bags promptly sold out everywhere, the contract ran out and turned the limited ed handbags just as quickly into rare collectibles.
The large Hella Hobo Mega Lamb bag was one of the more successful ones. Even media starlett Paris herself was spotted wearing the hobo in public. The bag features a large inside zip compartment, the interior is fully lined in red canvas fabric and features a L.A.M.B. signature stitched on tag, and a detachable signature silver-metal L.A.M.B. charm is included. Unfortunately, it's quite the task getting your hands on one of them these days, you may be lucky on Ebay.