I've got a confession to make before we talk about this bag: My favorite bag from my personal collection is a purple hobo. Mine's Balenciaga instead of Fendi, but it's safe to assume that I have a bit of bias when it comes to bags that look like the Fendi Mia Chain Strap Hobo. I've found my purple hobo to be so useful and easy to wear that imagining how many different outfits this bag could go with isn't particularly hard.
More than anything, however, I look at this bag as even further evidence that Fendi has finally hit their stride, after a few years of searching for the right tone. The materials are nice, the logo is there but it's not the basis for the entire bag, and it looks like something a lot of different women would be proud to carry. Have we entered something of a Fendi renaissance?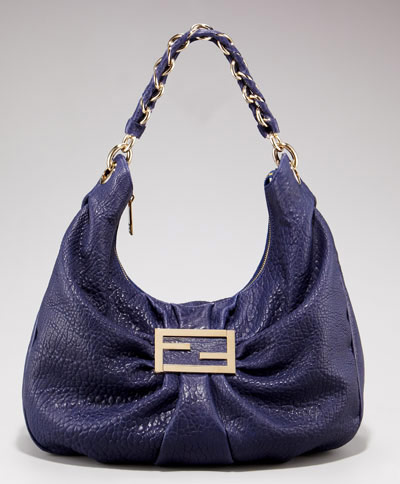 We've mentioned this possible Fendi revival several times (including earlier this week with the Fendi Floral Baguette), and I think I might have finally seen enough to believe it. Fendi has managed to change its aesthetic from overworked and logo-ridden to classic and pretty with a little flash of the unexpected here and there, and I think it's an enormous improvement.
This is obviously not one of their runway bags, but that doesn't mean it should be ignored – simplistic, solid-colored bags in beautiful leathers sell well for almost every brand, and I think that this hobo, in addition to the entire Mia line from which it comes, are a strong, classic foundation on which the brand's handbag line can be built. Buy through Nordstrom for $1590.