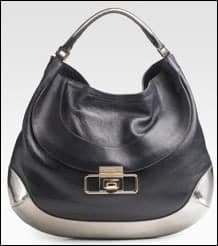 I'll go ahead and say it – I'm highly disappointed by the Anya Hindmarch Cooper Mirror Bottom Bag. Mostly that's my own fault, though. When I went to its Saks.com page, I thought it said COPPER Mirror Bottom Bag, and I had high hopes that the bottom piece of the bag was going to actually be made out of a piece of metal, and that would have been awesome. I had no idea that I had any desire for a bag made partly out of sheet metal until I realized that I had never seen one before, and then Anya Hindmarch seemed like a genius.
Until I realized that the bottom of the bag was just made out of metallic patent leather, and the word in the title was COOPER not COPPER. And then I was tremendously disappointed. I actually frowned at the bag, and then I said to myself "Self, I'm not going to write about this bag, it tricked me."
But then I looked again and realized that, hey, it's kind of a cool bag anyway. They shape is perfect – structured enough to have really clean lines, but still with enough slouch to have the appeal of a hobo. The leather appears to be really thick, the patent on the bottom is probably shiny enough to be used as a mirror, and the interior is lined in delicious cream suede. So many designers cut corners these days, and it looks like Ms. Hindmarch is still make beautiful, discrete, high-quality bags out of obviously fine materials. As such, she deserves our heartfelt appreciation, even if the bag is not actually part metal. Buy through Saks for $1,195.