Confession: I don't watch Mad Men. I know that I should. I know that I'd love it and become utterly and completely obsessed with Joan. I believe all of the people that tell me how great the show is. I have no excuse.
Thankfully, it appears as though Valentino's accessory designers aren't as behind the times as I am. Mad Men's midcentury style has influenced designers far and wide since the show's advent in 2007, and with the fourth season set to debut on AMC this Sunday, the show's fashion caché is unlikely to subside anytime soon.
Fall runways saw a nearly universal embrace of 60s style, including shoes and accessories like the Valentino Jolie Framed Patent Bag. This prim, streamlined handbag would be right at home on Betty Draper's gloved arm.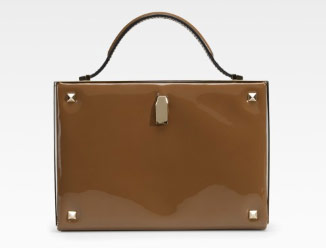 This design is a product of an era when women had few social responsibilities beyond their families and appearances. At just an inch deep, Valentino has hardly created an everyday bag for a mom on the go, yet it's still too big to be used convincingly as a clutch. This is the bag you reach for if you're truly dedicated to creating a retro look, but for most women, it will still only be a once-in-a-while kind of treat. Buy through Saks for $1895.