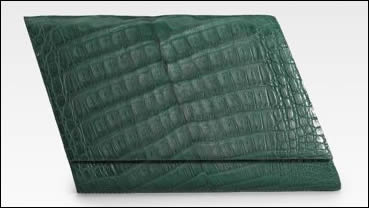 Sang A Flash Parallelogram Clutch
Sang A Bags are on the Purse Blog radar. Her handbags exude a feeling of modern femininity, of a sophisticated touch. It is her exotics that I am drawn to most though, as I typically go to newer designers for exotics (but that statement is null and void after my Hermes Wallet purchase).
If math was not your top subject in grade school, you may not remember the term parallelogram, meaning a quadrilateral with two sets of parallel sides. Sang A uses this inspiration for her Sang A Flash Parallelogram Clutch which is designed with luscious dark green crocodile. The angular feel gives a modern chic vibe and there is an optional removable shoulder strap to give you both hands back. The inside is lined with lush suede and features a pocket with a zip closure. Measurements 9″W X 6½"H X 1¾"D. This clutch has that stunning look that I yearn for when clutch shopping. I, of course, would opt for the croc version of this clutch, but it is also available in black patent and silver patent via Saks for $645. $1,845 via Saks.