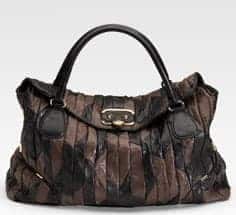 Hear me out on this one, folks. I know that Juicy Couture is not known for their amazing bags, but I think they're on to something interesting with this one. The Narda Houndstooth Bag, to me at least, is somewhat of a rare bird. I spend such vast amount of time looking for handbags to write about that rarely does anything make me stop and go, "Wait…WHAT?" On first examination, the leather looks kind of randomly patchworked in black and brown (or in grey and ivory, which appears to not be available at the moment via Saks), sort of like any number of Miu Miu bags I've seen over the past few season. But then I read the name – and that's where my "Wait…WHAT?" moment came – there's a method to Juicy's patchwork madness. Well, sort of, anyway. Maybe the pictures are just bad, but if you squint your eyes a bit, you can see it – the leather is actually pieced together to form an oversized houndstooth pattern. Brilliant…kind of.
Here's the problem: the scale of the pattern is too large for the bag, and it becomes difficult to see the pattern. The top flap also interrupts the houndstooth motif, further thwarting their efforts at
cleverness. On a tote with no top flap? This would be an incredibly intelligent and modern bag, I think. And while Juicy makes some cute clothes as of late, I don't think anyone has ever accused them of being smart or thought-provoking, so this idea is a good, if somewhat
mishandled, step in the right direction. Buy through Saks for $550.
On second thought, Juicy often makes bags with the same style in several shapes and sizes – has anyone encountered this bag in tote form?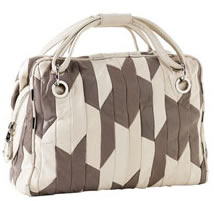 Oooh, there is another version: the Houndstooth J.Z.N. Satchel – it's not a tote, but it's a zip satchel, which lets you see the clever little pattern a bit better. Buy through Nordstrom for $450.