In my world, this is one of the biggest weekends of the year. Last night marked the first college football games of the 2009 season, and the majority of teams will kickoff their schedules tomorrow, including my one true love, the University of Georgia Bulldogs.
I can't be the only purse fan that's also a football fan, surely, and this being Friday and all, I thought we might briefly explore where fashion and football collide – game day attire. More specifically, game day handbags. You have to carry your stuff in something, and you always want it to be chic and match the colors you're wearing, even if you're sporting a combination that you would never wear if you weren't supporting your team (royal blue and orange, anyone?). This isn't just true of college football; it's true of all sports for fashionable female fans, but this is the only sport I care about, so there's no time like the present.
If you get a little creative, there's no reason you can't find something that can do double duty as a game bag and something you can wear outside of a sports setting as well, as long as you're willing to keep a close eye on your purse while tailgating and cheering. I'll make some bag recommendations for my own alma mater and a couple of the country's other big football schools, after the jump.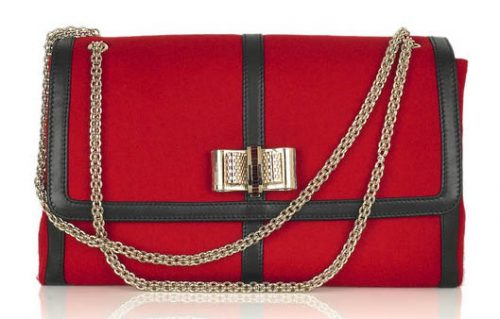 Christian Louboutin Sweet Charity Flap Bag, The University of Georgia Bulldogs
Admittedly, red and black is one of the easiest school color combinations in the country, and we take advantage of it from our earrings to our toenail polish while dressing for football games. This bag is a medium size, which is ideal for football – big enough to hold your stuff without being too big to lug around all day – and it fits easily on your shoulder for stress-free carrying while in the stands (please, I beg you, unless you're in a luxury box, don't put your bag on the ground). I deduct points for the fact that it's made of felt – it'll stain if you get a little too excited and spill a bourbon & Coke on it. Buy through Net-a-Porter for $1495.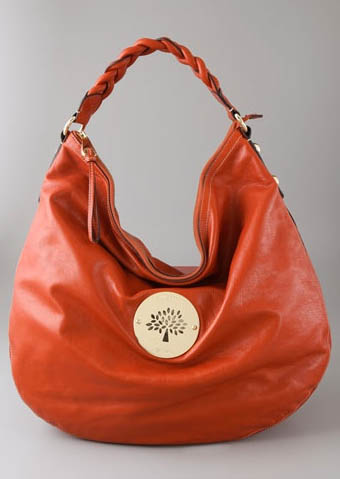 Mulberry Daria Hobo, The University of Texas Longhorns
Alternately, orange has to be one of the most difficult team colors to dress with, particularly considering that every orange school has a very specific shade that they find acceptable. As best I can tell, this particular bag would be most appropriate for the slightly burnt orange that they prefer in Austin, TX, and proper team support becomes even more important when you expect your team to be playing for a national championship in a few months. The Daria Hobo fits the basic requirements for a game bag – it's in at least one major team color, it's fairly lightweight, it's not too huge, and it can be carried on your shoulder. It also has the advantage of being leather, which means it's less likely to stain than a fabric bag. Buy through ShopBop for $995.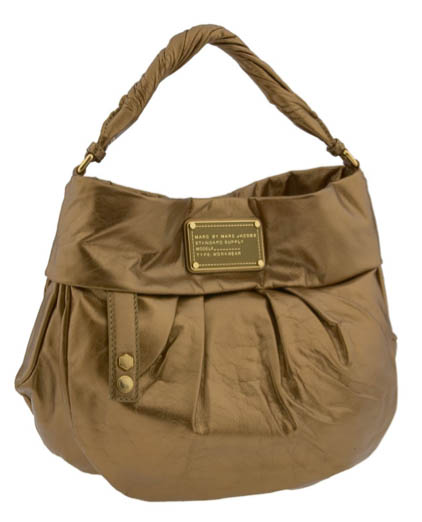 Marc by Marc Jacobs Twisted Q Lil Riz Hobo, The University of Notre Dame Fighting Irish
I hate Notre Dame, so I was tempted to find the ugliest handbag I could find in one of their colors (or better yet, plaid or something), but having Charlie Weiss as a coach appears to be punishment enough. So instead, I fount one that almost exactly matches their team's home-game pants. At this point, the trend should be clear – easy-to-carry, lightweight leather shoulder bags are your best bet for both inside the game and for regular wear during the off-season. Buy through Nordstrom for $428.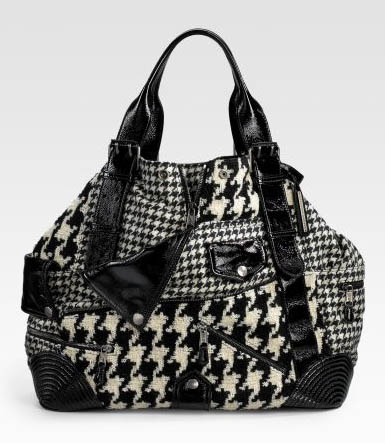 Alexander McQueen Houndstooth Tote, The University of Alabama Crimson Tide
My mom is going to hate me for including this one. She's an Auburn alum and Auburn/Alabama is one of the bitterest rivalries in all of college sports, maybe in all of sports, period, but I have to give credit where credit is due. Alabama's love for houndstooth is one of the coolest fashion statements that I've ever seen from a sports fan base, and they do it all because of the houndstooth fedoras of legendary coach Bear Bryant. If Net-a-Porter were to look at their records, I would guess that they have already shipped a number of these bags to wealthy alumni in and around Alabama that may or may not actually have any idea who McQueen is. Not that it's impossible for Southerners to be fashion-conscious, obviously; it's just that in the pursuit of all things houndstooth, designer labels are really not the point. Buy through Net-a-Porter for $1995.
One notable big-name school that I left out is Ohio State – Megs, Vlad and Shannon are all Buckeyes, and perhaps one of them will grace us with their OSU bag pick in the comments.
P.S. Please consider supporting our small, bag-loving team by clicking our links before shopping or checking out at your favorite online retailers like Amazon, Neiman Marcus, Nordstrom, or any of the listed partners on our shop page. We truly appreciate your support!