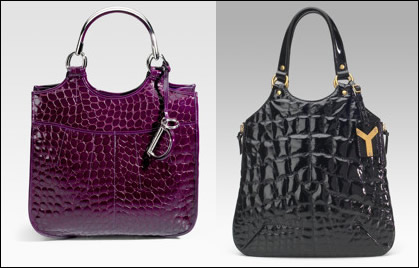 Dior vs YSL
This Friday is going to be the day of designer vs designer of similar looking bags. There are only so many things you can do with a handbag and for this very reason many designers have models that are eerily similar to another brand. Sometimes it is on purpose, sometimes not, and sometimes it is a downright copy. So for today, we are going to have a little fun with it!
First we are going to discuss the Dior Medium Dior 61 Tote versus the Yves Saint Laurent Tribute Medium Flat Tote. This YSL bag has caught our attention before with a really chic gold crackled leather finish. In fact, that exact design still has my heart. Dior has not been on the Purse Blog raider much because, well, let's face it, some of their designs suck! Dior bags have not met my fancy much at all, until I ran into this one.
The Dior Medium Dior 61 Tote is designed with printed violent patent croc with a flat shape and long body. This is a great throw on your arm bag and stunning for work. The color is beyond divine, beyond drool worthy, beyond oh-so-my-style! There are double handles and this bag is on pre-oder at Saks for $1850.
Then we have the recognizable Yves Saint Laurent Tribute Medium Flat Tote. Again, this tote I love and most of us know the design well. It has been done in patent leather, cracked leather, and also croc-embossed leather. This flat tote is quite similar to the Dior tote, showing off a long body with a slight diameter. Perfect for papers but not big enough for the kitchen sink. Buy through Saks for $1395.
So now we have two bags from two very different designers that share a close resemblance. But which do you prefer? The Dior or the YSL?