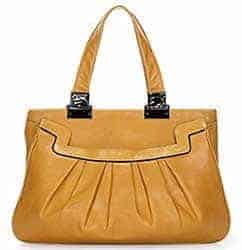 Some designers are world famous for their handbags, and some just aren't. The average fashion fan can probably spot a Louis Vuitton or Balenciaga bag a mile away, but may be hard pressed to describe the latest ready-to-wear from either brand. Alternately, some brand that are heralded widely for their clothing lines have accessories that languish in relative obscurity, for no apparent reason other than that they aren't already famous for bags (seems like kind of a self-fulfilling prophecy, no?).
Despite the fact that I own bags from both of the brands name-checked above, I have a very soft spot in my heart for designer bags that don't immediately give away their branding, even to those in the know. It just seems like a slightly smarter way to consume to me, even that's probably just what I like to tell myself. Most purses from big-name designers with small accessory lines retain what we all love about high-end bags: they're made well and of beautiful materials, they're style-conscious, and much attention to detail is paid. The added bonus, though, is that none of your friends will have any idea where you found such a gorgeous new bag, which obviously means that you win.
Lately, one of my favorite examples of this phenomenon is 3.1 Phillip Lim's Omai Pleated Shoulder Bag in yellow. The details on the bag are gorgeous – the front pleating is even and immaculate, the black piping around the edges is actually suede, and the interior is a lovely light blue. The hue of yellow is perfect for a bag to transition from summer into fall, and you get all that plus Lim's formidable fashion pedigree for $625, a relative steal among bags from labels of his caliber. I wasn't even aware that he made bags until very recently, although I've been a fan of his clothing line for some time, and now I feel like I've been missing out. Buy through eLuxury for $625.