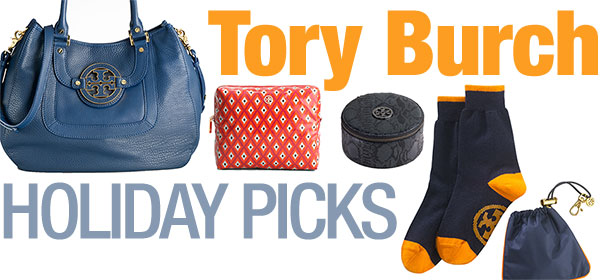 Can any of you believe that the Holidays are right around the corner? That means shopping season is upon us and it is time to start making our lists. Tory Burch asked some of her favorite bloggers to share their favorite Tory Burch holiday picks. I was thrilled take part in this and had an easy time picking my favorite Tory Burch items.
Take a look at what I picked and why I picked it!
Tory Burch Pebbled Leather Amanda | $465
Of course I had to pick a handbag and I immediately fell in love with the Amanda Hobo. This is an ideal gift, which can be used as an everyday staple for any wardrobe. The navy brings color without being too trendy. The double top handles and optional shoulder strap also make this bag easy to carry.
Tory Burch Travel Sock | $48
Holiday season means tons of traveling, whether by car, plane, or train. I always have a pair of fuzzy warm socks in my travel bag. It is nice to take off your shoes and keep your feet warm and comfortable.
Tory Burch Printed Snake Round Jewelry Case | $195
If you are looking for the perfect gift, this is another option for both yourself or someone else. We all want to take jewelry with us when we travel, but packing it is such a hassle. This grey snakeskin patterned round case both looks chic and is entirely functional.
Tory Burch Brigitte Cosmetic Case | $65
My current cosmetic case is from Tory Burch and I have adored it. With a cosmetic case it is safe to pick a stand-out pattern with bold colors (green, blue, and white). There is a larger size as well, but I picked the smaller size since it will easily fit into your handbag.