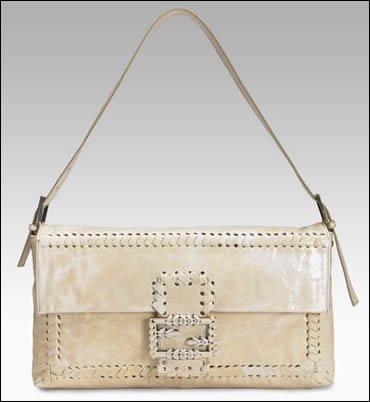 Fendi Vintage Leather Baguette
So I just brought you the beauty that is the Fendi Rainbow Clutch, but I can see many of you (even me!) thinking it looks drab in the picture. A picture is worth a thousand words, and when a picture neglects to capture the essence of a bag, it can loose potential followers. I am not satisfied with the picture for the rainbow clutch, and even less satisfied with the bold colors on the version photographed. It is harsh and not as chic as the bag looked on the runway. Thankfully Fendi has created other color options to appeal to those who are not fans of the rainbow version, and this picture showcases the bag much better. Saks is carrying the Fendi Vintage Leather Baguette in both ivory and brown leather. This bag features the same appeal as the rainbow version; including elaborate stitching, smooth leather, and an interchangeable shoulder strap. The perk is, that this ivory color is stunning even in pictures! It is so chic and lady-like. The appeal of large clutches is not for everyone, but if you want to pull it off it is a statement piece. Dimensions are 16″W X 8″H X 3″D. Buy through Saks for $1950.
So now we have brought you the Fendi Patent Shoulder Bag, the Fendi Rainbow Clutch, and this Fendi Vintage Baguette. Which appeals to you?
[poll id="18″]