[poll id="53″]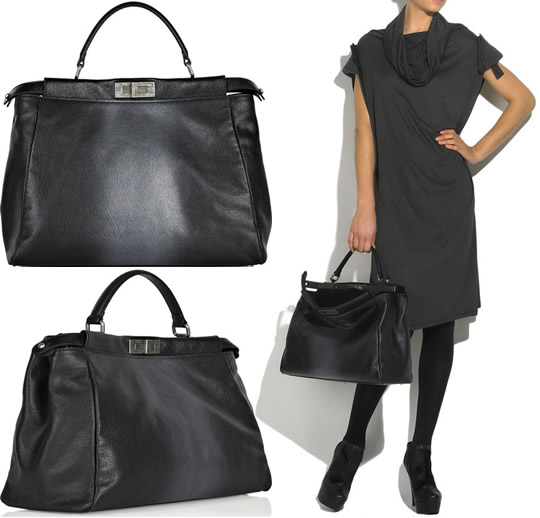 Fendi keeps making me sad. I want to like Fendi, I want to embrace their new bags, but I rarely find myself doing so. And that is sad for so many reasons, one being that my Fendi Spy Bag was my first high end designer bag purchase.
After the Spy bag, Fendi brought us many other bags which we were happy to leave in the stores and off our arms. Recently, Fendi is sneaking in with some bags that we are liking, which gives us hope that Fendi is trying to get back into our hearts. The Fendi Peek-a-Boo Bag is the most recent popular bag from Fendi, being seen in many renditions and carried by celebrities. Let's take a closer look at the Peek a Boo.
The black goat leather is offset with burnished silver-tone metal hardware. The shape of this handbag is very Birkin-esque, which many have noted upon seeing the bag. The bag has a slouchy appearance and many times is seen unclasped, which makes this purse look 'messy'. I love that they finished the interior with gold leather, which shows a decadent finish on the inside as well as the outside. Buy through Net A Porter for $2,300.
Vote and tell us what you think of the Fendi Peek A Boo bag.