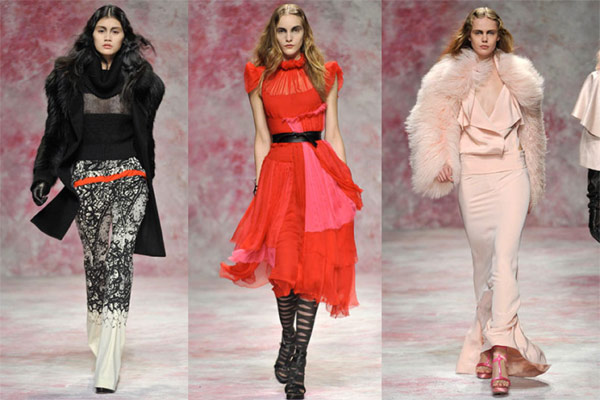 As soon as I saw fashion heavyweights on Twitter heralding Prabal Gurung 2011 as a return to glamour, I couldn't wait to see the collection. The Vogue favorite and relative fashion newcomer has produced promising show after promising show for the past few seasons, and his latest work perfectly straddles the divide between traditional and edgy, with plenty of luxury thrown in for good measure.
Gurung continued the trend we've seen so far this week of using only a couple of colors against a neutral base, and the orange-reds and pinks felt current and popped nicely against the blacks and creams. The real story of this collection, though, is in Gurung's expert embellishments, from gathered chiffon to gowns dripping with beadwork. It's too early in the season's presentations to say whether or not glamour is "back," if it ever really left at all, but this collection certainly makes a compelling argument for its advent.
Photos via the New York Times.