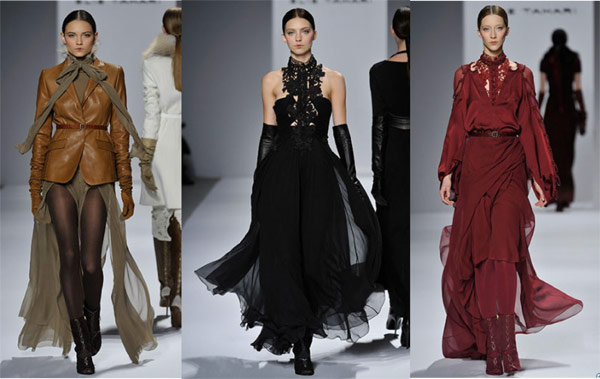 As much as I'm loving spring's brights, black is always the color of clothing that will have my heart above and beyond any other. With that in mind, it's not difficult to see why Elie Tahari Fall 2011 roped me in quickly. The first half dozen looks out were assembled studies in the beauty of black and its many textures and transparencies, and when the monochromatic looks gave way to ensembles of white, brown and eventually red, I still found plenty to enjoy.
In keeping with New York's seasonal trends, red was the only strong color to be found among neutrals, but with clothes this luxurious, it seems unfair to call the colors neutral. Tahari does a great job of toeing the line of high-end wearability, and although I disagree with the inclusion of gauchos in the collection, I'd be excited to wear nearly anything else that graced the runway. Particularly anything black.
Photos via the New York Times.