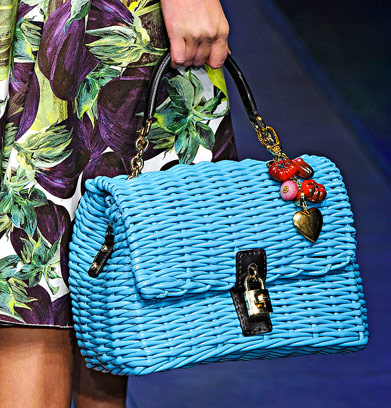 Images via Vogue.com
As I flipped through the images of Dolce & Gabbana Spring 2012, one song played in my head: "Be Italian," from that movie Nine that no one saw last year. The film may not have been a masterpiece, but the spirit of its most famous musical number couldn't have been any more dead-on for Dolce's spring collection. From bracelets decked in miniature red peppers to handbag straps dangling with faux dried pasta, I'm suddenly jonesing for a big plate of fettucini bolognese.
For a side dish, I wouldn't mind one of Dolce's ladylike straw (…is that wicker?) top handles, preferably in baby blue. Raffia and materials like it are set to be a big trend for spring and there's nothing we can do to stop it, so we might as well embrace the designs that do it best. Perhaps because the brand has used woven materials in many of its bags for a number of seasons, Dolce & Gabbana's straw options are better than most, with or without the added pieces of penne.