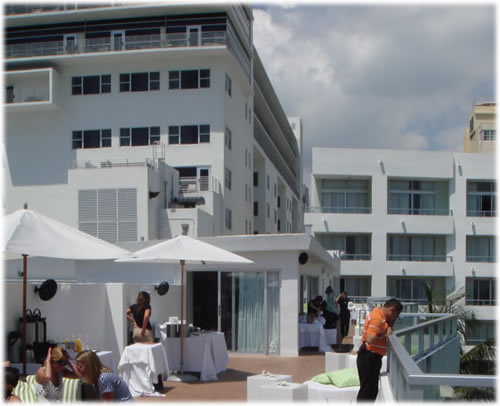 This past Friday Vlad and I were invited to attend an ultra posh party at the glamorous Sagamore Hotel in South Beach, Florida on behalf of Glam. Not sure what to expect, but knowing we had to look South Beach ravishing, Vlad was dressed head to toe in Theory along with Tod's shoes while I (snuggly) pulled off a stunning David Meister dress. The posh party was held in the Penthouse Suite of the Sagamore Hotel, which overlooks South Beach, and was attended by a a great crowd, including Dr. Lee Gibstein, Olivia Chantecaille, Beth Shapiro from Marchesa, Stylist Ann Caruso, Sagamore Owner Jennifer Sazant, Iron Chef winner Michelle Bernstein, and many more. Vlad and I were totally taken off guard though to find out that a majority of the attendees were at the party to celebrate a fine weekend with Vivre. If you are not familiar with Vivre, it is a posh online store and catalog which sells knock-out designer goods. In one of the bungalow's poolside, Vivre had a small makeshift shop set up for people to browse and buy goods. I was eying some beautiful Nancy Gonzalez croc bags and gorgeous jewels and jems, while being a little put off at my recent spending that was keeping me from purchasing something. If we were not lucky enough to be invited to this party, we also had the pleasure of meeting of meeting Vivre's CEO, Eva Jeanbart-Lorenzotti. Although she was pressed for time, giving one interview after the next, Eva had a brief moment to meet with Vlad and I. This woman is a fashion guru, a business genius, and a stunning lady. We were so happy to get the chance to meet her and so many others!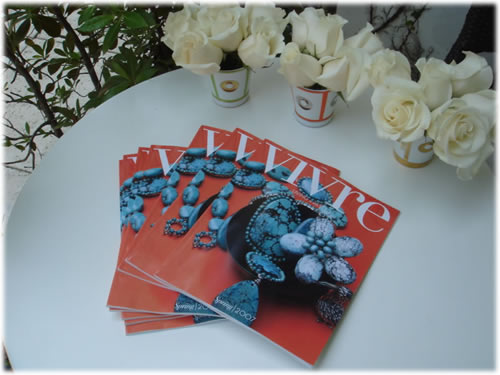 Read more details about the party and view more pictures below!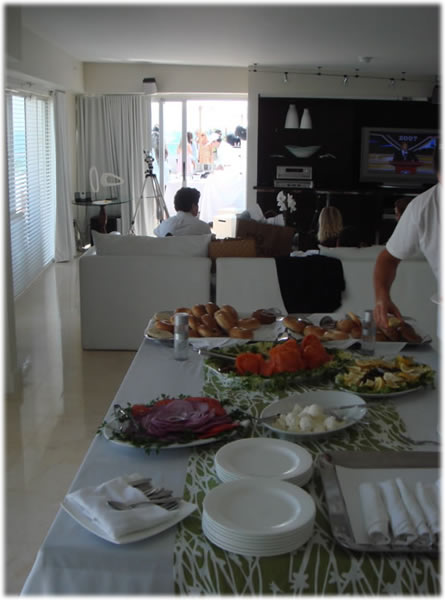 Sounds too good to be true right? Wrong, there was so much more. I grew up in South Florida, I know they throw parties that people only dream of. This party had everything, from the location to the treatments. The penthouse suite had a flat screen TV (like that mattered) and mod white leather couches. You could simply snap your finger while laying on the couch, and poof, there was someone to give you a foot rub. The Penthouse Terrace offered the most pristine view of both the pool and ocean. What was offered to us? Here is where you will get really jealous. Botox courtesy of Dr. Gibstein, a Bal Harbour based plastic surgeon. I opted for no Botox, but spoke with Dr. Gibstein who told me that my lips never needed an injection. Talk about a boost of confidence. Vlad dined on the huge array of bagel, lox, and cream cheese while others feasted on made-to-order omelette's on the terrace. Other options were Beach Body Ready Scrubs, Mojito Manicures + Pedicures, Caviar Pearl Facials, and Brazilian Waxing. You could choose to have many of the treatments either outdoors or indoors.
So you want to know how we really felt about the party? Great! Vlad and I really felt like the party was an eye opener. When we arrived at the posh gathering we did feel a little out of place. Vlad and I only knew each other, but we were determined to mingle. Sitting outside in a lux outdoor chair while sipping on our drink, we felt like the smelly kids. People popped outside and sat across from us, but then immediately went back inside. I did a quick sniff of myself, thought I smelled ok, and then overheard a conversation why no one was outside. Whew, it was not because of Vlad and I, it was because after Botox you need to stay out of the sun. A Botox party is truly the next posh party; for a weekend with the girls, Bachelorette party, or even recommended for a divorce party. This was a totally trendy party. Vlad and I still feel like we have young skin, although I began to closely look in the mirror and found a line or two on my forehead, but that is besides the point that I felt like running back to Dr. G and asking for a touch up! Vlad and I fit perfectly in at the bungalow showing of Vivre products. The gals in the bungalow were really shocked at Vlad's knowledge of all the bags. He sure made me proud. We ended the party with a touch of sun, humid-struck hair, but feeling very snazzy nonetheless.
Special thanks to Glam for inviting us to such a fabulous party! :grin:
See all of the pictures on the Purse Forum here (including a shot of Vlad and I after the party, with not so great hair and lots of squinting which will undoubtedly result in needing Botox sooner than later) :wink: