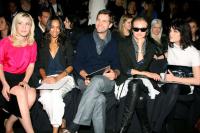 Do you feel that special tingle in the air? Smell that scent – the combined perfumes of a thousand magazine editors and well-heeled fashionistas, waiting impatiently in an enclosed space? Sense the Earth itself spinning ever-so-slightly, almost imperceptibly out of its natural orbit? Only one thing can be to blame: the advent of New York Fashion Week.
While my compatriots up north trudge through the snow and wait on line for the crashers in front of them to get turned away, I'll be lounging in my climate-controlled apartment, eating pita chips and drinking white wine that came from a screw-top bottle (I'm not ashamed). I'll see the same collections that they do, with a wait of about an hour before the images make it to the internet, and I'll probably have a better view (make no mistake, the "compatriots" to which I refer are not front-row people). So won't you join me? I've got a few good reasons that you really should.
1. You weren't invited: Which I wasn't. So.
2. New York is, uh, having a weather issue at the moment: I'm a native and (so far) lifelong Southerner, and the prospect of an accumulation of snow does not sit well with me. Sure, it looks pretty from the inside as long as the power and cable are working, but the idea of walking around in it creates a vague sense of panic in the back of my brain and spontaneous visions of my butt hitting the sidewalk. Sadly, Fashion Week (and life in New York in general) requires a bit of traipsing around outside, and I'm just not ready to scale that sort of obstacle. That's if I could have gotten there – word is that flights into the Northeast are hit-and-miss at best. Even then, there's never any guarantee that the crazy car service driver wouldn't have killed me on the trip over the bridge from the airport.
3. The dress code is much more comfortable in your apartment: The amount of outfit anxiety that attending Fashion Week must cause is surely exhausting, and then there are the practical concerns associated with bad winter weather on top of it. Fashion surely trumps function in this case, and the number of shivering women waiting to get in to fashion shows at this very moment must be in the hundreds, if not more. Contrast that with the cozy sweaters and leggings that I normally wear around the house, and the choice is not hard to make. Also, in your apartment, there's no snooty 22-year-old with a headset looking down her nose at you while you stand there in the cold, shifting your weight uncomfortably atop your towering Louboutin platforms, waiting for her to find you and check you off. You have a key to your apartment? You get in to the "show." Easy.
4. The snacks are also better: See: the aforementioned pita chips and cheap wine, plus any takeout of your choosing. Or if you want to go out to dinner with a friend, you just flip through the slideshows of your favorite shows later, or watch the video on the designer's website. When you stay home, the fashion world waits for YOU. In New York, Marc Jacobs doesn't even wait for Lady Freakin' Gaga.
5. You don't need to be there to see the shows live anymore: Big names like Marc Jacobs, Rodarte, Alexander Wang and Calvin Klein will be streaming their shows online for the hoi polloi to see at the same time as the glitterati that are in attendance. Fashion week, welcome to democracy. It's wearing sweatpants.
As always, we'll have recaps and pictures from the week's best shows starting bright and early on Monday morning. Make sure you check back with us! For a semi-comprehensive listing of all the shows that will be streamed live and where you can find them, please refer to NYMag.com's handy-dandy guide.