Alexander McQueen. He wins. He wins at innovation, he wins at Paris Fashion Week, he wins at life. His collection was so mesmerizing, so totally awe-inspiring, that I don't even need to see the rest of the shows to declare him the victor.
McQueen titled his show "Plato's Atlantis," and the aquatic, amphibious influence was clear from look one. Other designers this season have shown us visions of the world, post-apocalypse, but this collection may be the most fully realized of any of them. Not only do the clothes depict an eventual devolution from woman to sea creature, but so do the towering, sculptural platform shoes (more on those in a post later today), the prostheses that were applied to the model's brows, and the molded, horn-like hair looks. When McQueen tells a story, he goes all out.
Regardless of the story, these clothes were nothing but mind-blowingly beautiful. The prints were some of the most interesting I've ever seen at Fashion Week, and they also represented a step towards fashions technological future – they were digitally designed. In greens, browns, teals and blues, they formed sculpted, architectural cocktail dresses that were unlike any you'll find at a store near you.
The attention to detail that was paid – the ruching, seaming, pintucking, and beading – was worthy of any superlative that you can imagine. McQueen brings a decidedly couture sensibility to his pret-a-porter, and he continues to lead the way in innovation. This collection embodies what fashion can be, on its best days – fantastical, experimental, full of ideas.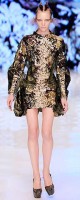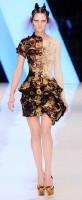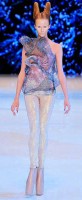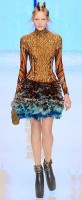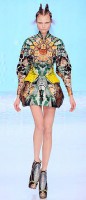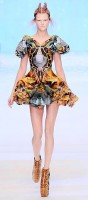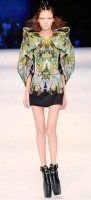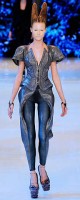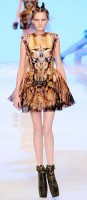 Images via Style.com.