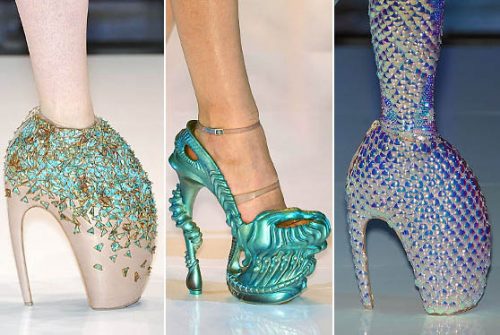 Unless you weren't already convinced of Alexander McQueen's dark genius by the pictures of the clothing from his show, we submit to you: the shoes.
What we got from this collection (among other things) is perhaps the most ostentatious, progressive approach to footwear that we've ever seen from a major designer, at least in recent memory. The shoes were, on average, a full ten inches tall with huge platforms in the front to make them at least somewhat functional for walking. I pray for the models' poor little ankles, but it was worth it to see these looks in their full form.
They came in three main varieties: first, ultra-high booties that looked more like prosthetic lobster claws than shoes you might see on the racks at Neiman Marcus, in keeping with the apocalyptic-aquatic theme of the show. These came in exotics, smooth leathers, and a variety of exterior embellishments, including shards of turquoise. The second type were booties that looked like something a resident in Wall-E's post-apocalyptic Earth might wear. The heels were covered in an amalgamation of industrial metal, creating perhaps the most wearable shoes of the collection. The third type were intricately carved porcelain platforms that were reminiscent of a coral reef, held on to the foot by clear plastic straps.
These are the shoes that a mermaid would wear, if a mermaid had feet. Luckily, the ones in McQueen's show did.