I was certain we covered the Derek Lam Nadia before. I checked PurseBlog and PurseBlog Savvy, no go. Instead, I must have been certain we covered it because I kept looking at this bag on ShopBop and other sites and thinking, "I should really write about this bag". I need to teach myself that internal conversation blog posts are not being seen by our readers. Apologies.
But we have a treat for you. Sure, this bag comes in leather, which is what I saw on ShopBop, but we are bringing you a closer look at the spiced up version of the Derek Lam Nadia Hobo in dyed buffed python. We will be bringing you more on the next spring trend that continues surfacing, tye-dye effects, and Derek Lam perfects this with the exotic skin and sleek design.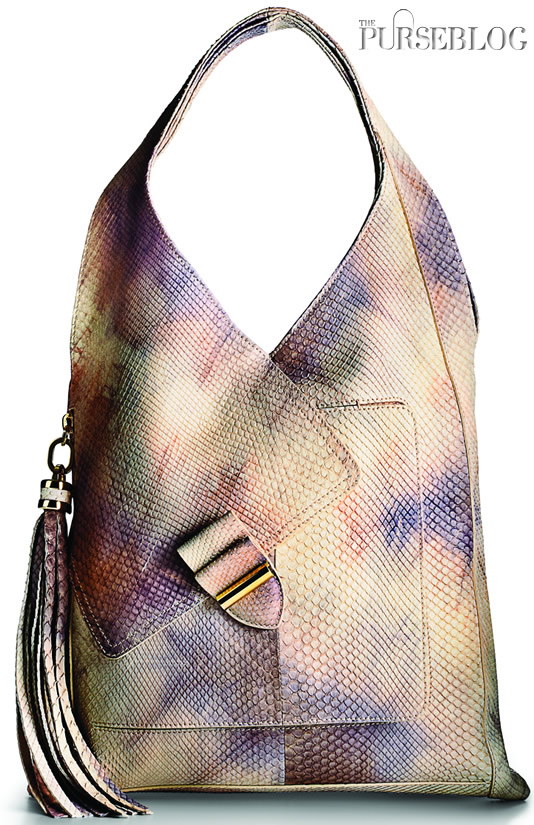 If you check out Rachel Zoe's website you will see she featured this bag earlier this week. And I will give credit where credit is due, I did not see this version of the bag until I saw it on Rachel Zoe's website. She has an eye for fashion and she is always accessorizing in a way that most of us would never imagine doing ourselves. Just like we have said be ready for spring dyes, so does Rachel Zoe.
Do you all remember the famed Fendi Rainbow bag from 2008? The trend did not entirely catch on then, but this year every designer is implementing it somehow. Derek Lam gets it right. What makes this Derek Lam bag stand out is that it brings you the spring trend without being overly trendy. In fact, the neutral hues used and toned dolor color palette makes this tye-dye bag flow beautifully with the design. The shape of the bag is rather structured, with the front standing out because of the asymmetrical tab flap pocket and oversized tassel pull. As Rachel Zoe would say, "I DIE". $3950 available at Derek Lam in NYC [212.966.1616].
If this version is not right for you, there is a black leather Nadia Hobo at ShopBop for $1,090.