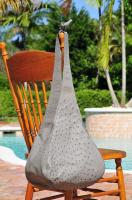 I will tell you a secret; to go on vacation and not go online is a real and true vacation. Don't fool yourself with that laptop that you check only a few times, it takes you over and puts your mind back on work and all things 'real'. Vlad and I, of course, had both of our lap tops in Key West but we ran into two glorious problems: our hotel did not have internet and Starbucks internet was so slow we could not log on. This meant deciding that the work could wait and we would truly vacation. I didn't even sneak my iPhone to check the internet (ok, maybe once or twice). So what if I came back to over 400 emails? The vacation was a relaxing time with my family, as we all celebrated my grandmother's 82nd birthday. Now that we are back from island time and back to civilization, with high speed internet streaming throughout the house, I am feeling a tad overwhelmed and behind. But for some reason, it does not bother me.
What I did learn over vacation was the ideal beach weather, walking around, summer bag. I have spoken about Bird Handbags before, we have even done a giveaway with the bag (which was a huge hit!). The bag from the line that truly called out to me was the Bird Handbags Ostrich Lil Lady, in cognac, which I now own. When I saw the bag in pictures I was enamored. The shape spoke directly to me and my style. The design is simple. The ostrich was the perfect touch to make the bag stand out. When I got the bag there were a few things that I did not love though; only recently did I come to love. The shape of the bag is precisely as it looks on the website and in pictures.
The shoulder straps are long and light-weight, and the shape of the body is like a bucket at the bottom. What I did realize is that the bag when it stands alone can bunch up into the size of a clutch. The ostrich is thin and lightweight, the silk lining is thin also, which makes the bag loose shape. But the perk of this is that the bag is ultra light. You can pack your wallet, phone, lipsticks, and other miscellaneous goods and your shoulder will not ache after a 5 hour walk. When you place the bag on your arm it fits perfectly over your shoulder and allows easy access when reaching down. What I love is the design. This is why I fell in love with the bag. It is this genius, why didn't I think of that, idea. I took my Bird Handbags Lady with me to Key West and it did not leave my side. Many of the locals and the tourists told me they loved it! Now comes the only other problem; the price.
I am a handbag addict, so justifying price is my forte, but the Lady in Ostrich is $1955 while the Ostrich Lil Lady is $1610. Do remember that you are getting ostrich, but I do think some may have a hard time justifying the price. There is the option of snakeskin and lambskin if you do not want to take the ostrich plunge, which do alleviate some of the price pressure. So would I recommend the bag, yes. But it all depends on your perspective and what you want with the money you give. To me, the weight, shape, and skin speak to my style and work perfectly with much of what I wear. Inquire further through Bird Handbags online.
Other fans of Bird Handbags are Kate Hudson (who has the exact same bag and color as me!) and Courtney Cox.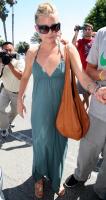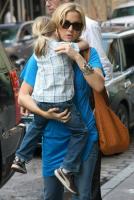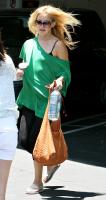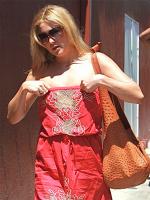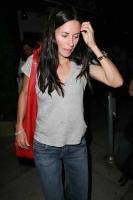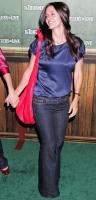 P.S. Please consider supporting our small, bag-loving team by clicking our links before shopping or checking out at your favorite online retailers like Amazon, Neiman Marcus, Nordstrom, or any of the listed partners on our shop page. We truly appreciate your support!