Mother's Day is right around the corner. While you might be planning a huge gathering which includes all the mother's in your family or you are working on finding the right card and/or gift to send to your mom. Each year, I end up doing something a little different. Years past, I've flown into town and surprised her and other years I've sent a card with a Starbucks gift card (her daily must-have). This year, I am toying with the idea of getting her a new handbag.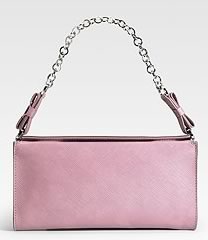 The Salvatore Ferragamo Leather Evening Bag is a great contender for an ultra-fabulous Mother's Day gift. The soft textured leather it topped with a bow trim on the chain strap. The lavender colored leather pictured here definitely hits that Mother's Day/Spring Time feel. However, if you don't want to seem too limiting, go for the black leather and let mom look fashionable with several outfits throughout all seasons. Buy through Saks for $520.
What are your plans for your mom or yourself on Mother's Day? Share with us!